▼ Books Currently Being Read
Equal Rites

Terry Pratchett
The Third Discworld Novel...
They say that a little knowledge is a dangerous thing, but it is not one half so bad as a lot of ignorance.
The last thing the wizard Drum Billet did, before Death laid a bony hand on his shoulder, was to pass on his staff of power to the eighth son of an eighth son. Unfortunately for his colleagues in the chauvinistic (not to say misogynistic) world of magic, he failed to check that the baby in question was a son. Everybody knows that there's no such thing as a female wizard. But now it's gone and happened, there's nothing much anyone can do about it. Let the battle of the sexes begin...
STATUS: Reading.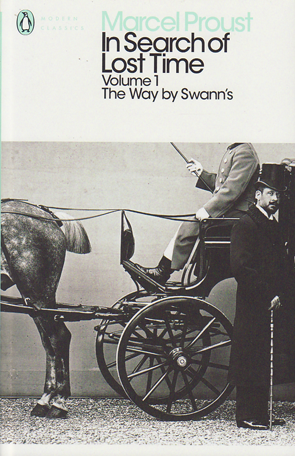 The Way by Swann's

Marcel Proust
The first volume of In Search of Lost Time...
The Way by Swann's is the most frequently read part of Proust's epic novel, In Search of Lost Time. It introduces subjects that resonate throughout the entire work, including the narrator's love for Swann's daughter Gilberte, Swann's jealous passion for Odette, and the rise of the nouveaux-riches Verdurins. Proust's narrator vividly recalls his childhood in Paris and Combray, most famously in a fraught evocation of his mother's good-night kiss and in the iconic scene where the taste of a madeleine dipped in tea brings back a flood of memory.
STATUS: Finished Reading. Review Pending after second reading.
The Pickwick Papers

Charles Dickens
Dickens' first novel...
Mr. Samuel Pickwick, retired business man and confirmed bachelor, is determined that after a quiet life of enterprise the time has come to go out into the world. Together with the other members of the Pickwick Club - Tracy Tupman, Augustus Snodgrass and Nathaniel Winkle - the portly innocent embarks on a series of comic adventures. The story recounts the adventures of the members of the Pickwick Club as they travel about England getting into all sorts of mischief. But can Pickwick retain his good will towards his fellow humans once he discovers the evils of the world? The book also reveals Dickens's burgeoning interest in the parliamentary system, lawyers, the Poor Laws, and the ills of debtors' prisons.
STATUS: Reading.