▼ Books Currently Being Read
Gravity's Rainbow

Thomas Pynchon
Pynchon's classic novel...
Tyrone Slothrop, a GI in London in 1944, has a big problem. Whenever he gets an erection, a Blitz bomb hits. Slothrop gets excited, and then 'a screaming comes across the sky,' heralding an angel of death, a V-2 rocket.
Soon Tyrone is on the run from legions of bizarre enemies through the phantasmagoric horrors of Germany. Gravity's Rainbow, however, doesn't follow such a standard plot; one must have faith that each manic episode is connected with the great plot to blow up the world with the ultimate rocket. There is not one story, but a proliferation of characters and events that tantalize the reader with suggestions of vast patterns only just beyond our comprehension.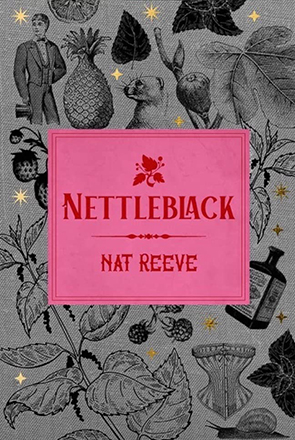 Nettleblack

Nat Reeve
A book about finding your place in the world...
"To be blunt: I must escape." 1893. Henry Nettleblack has to act fast or she'll be married off by her elder sister. But leaving the safety of her wealthy life isn't as simple as she thought. Ambushed, robbed, and then saved by a mysterious organisation - part detective agency, part neighbourhood watch - a desperate Henry disguises herself and enlists. Sent out to investigate a string of crimes, she soon realises that she is living in a small rural town with surprisingly big problems. When the net starts to close around Henry, and sinister forces threaten to expose her as the missing Nettleblack sister, the new people in her life seem to offer her a way out, and a way forward. Is the world she's lost in also a place she can find herself? Told through journal entries and letters, Nettleblack is a subversive and playful ride through the perils and joys of finding your place in the world, challenging myths about queerness - particularly transness - as a modern phenomenon, while exploring the practicalities of articulating queer perspectives when you're struggling for words.
The Finishers: The Barkley Marathons

Alexis Berg & Aurélien Delfosse
A book about one of the most mythical running races on Earth...
It is a race like no other: there is no website to take entries; participants are selected from those who find a way to submit written applications and the $1.60 entry fee; only around 40 people are chosen to run, with condolences from the race director. The course, based in the Cumberland Mountains of Tennessee, was inspired by the failed escape of James Earl Ray, Martin Luther King Jr's assassin, amid the unforgiving landscape and vegetation where Ray's prison was based. Runners must complete five roughly 20-mile loops - those who manage to complete only three laps are deemed to have achieved the 'fun run' - with a total elevation climb equal to two ascents of Mount Everest. Since 1986, only 15 people have ever finished. This publication celebrates their achievements.
Reading Progress
Finished Reading - Review Pending