▼ Books Currently Being Read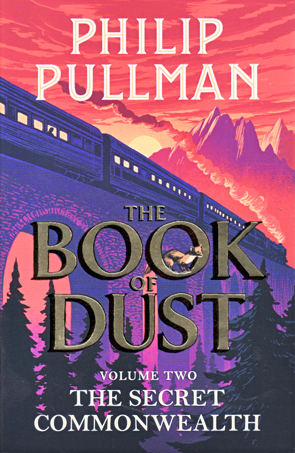 The Secret Comonwealth

Philip Pullman
The Book of Dust Volume 2...
The second volume of Sir Philip Pullman's The Book of Dust sees Lyra, now twenty years old, and her daemon Pantalaimon, forced to navigate their relationship in a way they could never have imagined, and drawn into the complex and dangerous factions of a world that they had no idea existed. Pulled along on his own journey too is Malcolm; once a boy with a boat and a mission to save a baby from the flood, now a man with a strong sense of duty and a desire to do what is right.
Theirs is a world at once familiar and extraordinary, and they must travel far beyond the edges of Oxford, across Europe and into Asia, in search for what is lost - a city haunted by daemons, a secret at the heart of a desert, and the mystery of the elusive Dust.
STATUS: Reading.
The History of Philosophy

A.C.Grayling
The first authoritative and accessible one-volume history of philosophy for decades...
The story of philosophy is an exploration of the ideas, views and teachings of some of the most creative minds known to humanity. But since the long-popular classic, Bertrand Russell's History of Western Philosophy, first published in 1945, there has been no comprehensive and entertaining, single-volume history.
A. C. Grayling takes the reader from the world-views and moralities before the age of the Buddha, Confucius, and Socrates, through Christianity's dominance of the European mind, to the Renaissance and Enlightenment, and on to Mill, Nietzsche, Sartre, and philosophy today. And, since the story of philosophy is incomplete without mention of the great philosophical traditions of India, China and the Persian-Arabic world, he gives a comparative survey of them too.
STATUS: Reading
Normal People

Sally Rooney
A story of mutual fascination, friendship and love...
Connell and Marianne grow up in the same small town in rural Ireland. The similarities end there; they are from very different worlds. When they both earn places at Trinity College in Dublin, a connection that has grown between them lasts long into the following years. This is an exquisite love story about how a person can change another person's life - a simple yet profound realisation that unfolds beautifully over the course of the novel. It tells us how difficult it is to talk about how we feel and it tells us - blazingly - about cycles of domination, legitimacy and privilege.
STATUS: Reading
Cujo

Stephen King
Classic horror...
Once upon a time, not so long ago, a monster came to the small town of Castle Rock, Maine . . . He was not a werewolf, vampire, ghoul, or unnameable creature from the enchanted forest or snow wastes; he was only a cop . . . Cujo is a huge Saint Bernard dog, the best friend Brett Camber has ever had. Then one day Cujo chases a rabbit into a bolt-hole. Except it isn't a rabbit warren any more. It is a cave inhabited by rabid bats.And Cujo falls sick. Very sick. And the gentle giant who once protected the family becomes a vortex of horror inexorably drawing in all the people around him . . . .
STATUS: Finished Reading. Review Pending.