▼ Books Currently Being Read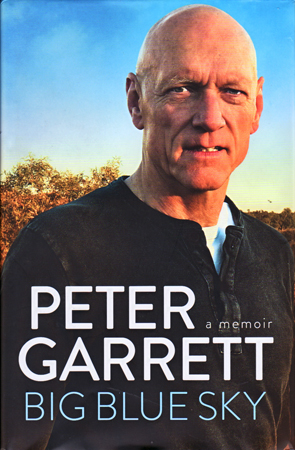 Big Blue Sky

Peter Garrett
A rock star and politician...
Peter Garrett's life has been fully and passionately lived. A man of boundless energy, compassion, intelligence and creativity, he has already achieved enough to fill several lives. From his idyllic childhood growing up in the northern suburbs of Sydney, to an early interest in equality and justice; from the height of 1960s culture shock at ANU to fronting iconic Australian band Midnight Oil; from his time as a galvanising activist for the environment to being the only unaligned Cabinet minister in two Labor governments, Garrett has an extraordinary story to tell. He writes movingly about his lifelong mission to protect the environment and his connection with Aboriginal people, about his love for his family and his passion for our country: what it means to him and what it can become.
STATUS: Reading
Flights

Olga Tokarczuk
A novel full of philosophy and anecdotes...
Flights is a series of imaginative and mesmerising meditations on travel in all its forms, not only the philosophy and meaning of travel, but also fascinating anecdotes that take us out of ourselves, and back to ourselves. Olga Tokarczuk brilliantly connects travel with spellbinding anecdotes about anatomy, about life and death, about the very nature of humankind. Thrilling characters and stories abound - the Russian sect who escape the devil by remaining constantly in motion; the anatomist Verheyen who writes letters to his amputated leg; the story of Chopin's heart as it makes its journey from Paris to Warsaw, stored in a tightly sealed jar beneath his sister's skirt; the quest of a Polish woman who emigrated to New Zealand as a teen but must now return in order to poison her terminally ill high-school sweetheart.
STATUS: Reading
The Night Circus

Erin Morgenstern
About this book...
The circus arrives without warning. No announcements precede it. It is simply there, when yesterday it was not. The black sign, painted in white letters that hangs upon the gates, reads: 'Opens at Nightfall Closes at Dawn.' As the sun disappears beyond the horizon, all over the tents small lights begin to flicker, as though the entirety of the circus is covered in particularly bright fireflies. When the tents are all aglow, sparkling against the night sky, the sign appears. 'Le Cirque des Reves The Circus of Dreams.' Now the circus is open. Now you may enter.
STATUS: Reading
Perfect Sound Whatever

James Acaster
A look at the music of 2016...
James Acaster wakes up heartbroken and alone in New York, his relationship over, a day of disastrous meetings leading him to wonder if comedy is really what he wants to be doing anymore.
A constant comfort in James' life has been music, but he's not listened to anything new for a very long time. Idly browsing 'best of the year' lists, it dawns on him that 2016 may have been a grim year for a lot of reasons, but that it seemed to be an iconic year for music. And so begins a life-changing musical odyssey, as James finds himself desperately seeking solace in the music of 2016, setting himself the task of listening only to music released that year, ending up with 500 albums in his collection.
Looking back on this yearlong obsession, parallels begin to grow between the music and James' own life: his relationship history, the highs and lows of human connection, residual Christian guilt, and mental health issues that have been bubbling under the surface for years. Some albums are life-changing masterpieces, others are 'Howdilly Doodilly' by Okilly Dokilly, a metalcore album devoted to The Simpsons' character Ned Flanders, but all of them play a part the year that helped James Acaster get his life back on track.
STATUS: Reading