▼ Books Currently Being Read
Treacle Walker

Alan Garner
Shortlisted for the Booker Prize, 2022 . . .
Joe Coppock squints at the world with his lazy eye. He reads his comics, collects birds' eggs and treasures his marbles, particularly his prized dobbers. When Treacle Walker appears off the Cheshire moor one day – a wanderer, a healer – an unlikely friendship is forged and the young boy is introduced to a world he could never have imagined.
Reading Progress
Finished Reading - Review Pending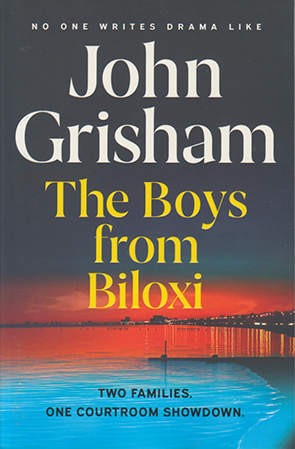 The Boys from Biloxi

John Grisham
A saga of two sons of immigrant families . . .
For most of the last hundred years, Biloxi was known for its beaches, resorts, and seafood industry. But it had a darker side. It was also notorious for corruption and vice, everything from gambling, prostitution, bootleg liquor, drugs . . . even contract killings. The vice was controlled by a small cabal of mobsters, many of them rumoured to be members of the Dixie Mafia.
Keith Rudy and Hugh Malco grew up in Biloxi in the sixties and were childhood friends. But as teenagers, their lives took them in different directions. Keith's father became a legendary prosecutor, determined to 'clean up the Coast.' Hugh's father became the 'Boss' of Biloxi's criminal underground. Keith went to law school and followed in his father's footsteps. Hugh preferred the nightlife and worked in his father's clubs. The two families were headed for a showdown, one that would happen in a courtroom.
Dead Man's Quarry

Ianthe Jerrold
A Golden Age Mystery...
On a cycling holiday in idyllic Herefordshire countryside, Nora and her friends make a gruesome discovery - the body of their missing comrade at the bottom of a quarry. But an apparently accidental fall turns out to have been murder - for the man was shot in the head.
Fortunately John Christmas, last seen in The Studio Crime (1929), is on hand with his redoubtable forensic associate, Sydenham Rampson. Between them they shed light on an intricate pattern of crimes... and uncover a most formidable foe.
Dead Man's Quarry is the second of Ianthe Jerrold's classic and influential whodunits, originally published in 1930.