▼ Books Currently Being Read
The Grand Tour

Olivia Wearne
A story about aging disgracefully...
When Ruby and Angela embark on a Grey Nomads road trip, the last thing they expect is a tiny stowaway; one who will turn them from unsuspecting tourists into wanted kidnappers and land them in a world of trouble. As their leisurely retirement plans unravel, Angela's relationship with her brother Bernard goes from bad to worse. Bernard has his own problems to contend with. Adrift in life, his career as a news presenter has been reduced to opening fetes and reading Voss as an audio book (a seemingly impossible task). His troubles are compounded when his wife starts dating a younger man and a drink-driving incident turns him into a celebrity offender.As Angela and Ruby set about repairing burnt bridges and helping their unexpected guest, and Bernard attempts to patch together his broken life, they discover that even after a lifetime of experience, you're never too old to know better.
Reading Progress
100% Complete - Review Pending
Before the Coffee Gets Cold

Toshikazu Kawaguchi
What would you change if you could travel back in time?...
In a small back alley in Tokyo, there is a cafe which has been serving carefully brewed coffee for more than one hundred years. But this coffee shop offers its customers a unique experience: the chance to travel back in time. We meet four visitors, each of whom is hoping to make use of the cafe's time-travelling offer, in order to: confront the man who left them, receive a letter from their husband whose memory has been taken by early onset Alzheimer's, to see their sister one last time, and to meet the daughter they never got the chance to know.
But the journey into the past does not come without risks: customers must sit in a particular seat, they cannot leave the cafe, and finally, they must return to the present before the coffee gets cold ...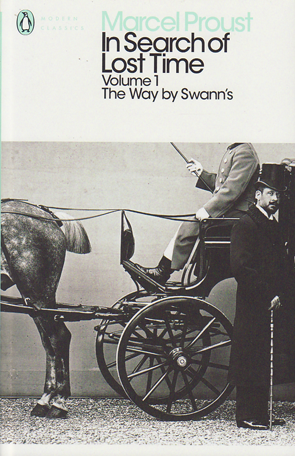 The Way by Swann's

Marcel Proust
The first volume of In Search of Lost Time...
The Way by Swann's is the most frequently read part of Proust's epic novel, In Search of Lost Time. It introduces subjects that resonate throughout the entire work, including the narrator's love for Swann's daughter Gilberte, Swann's jealous passion for Odette, and the rise of the nouveaux-riches Verdurins. Proust's narrator vividly recalls his childhood in Paris and Combray, most famously in a fraught evocation of his mother's good-night kiss and in the iconic scene where the taste of a madeleine dipped in tea brings back a flood of memory.
Reading Progress
Finished Reading. Review Pending after Second Reading.