Reviewed by
:
bikerbuddy
Translator:
Benjamin Tominson
English Verse:
Sophie Hannah
Category:
Children's Fiction
Date Read:
31 March 2023
Pages:
28
Published:
1952
The Book about Moomin, Mymble and Little My was Tove Jansson's first short picture book set in her Moomin world. Mymble is upset because she can't find her sister, Little My. She asks Moomintroll, who is on his way home with a pail of milk for Moominmamma, to help her find Little My. Each page in the story is a new scene in the search until Little My is found, at which point it is a matter for the trio to overcome some mild obstacles before returning to Moominmamma for a celebratory feast. The story includes characters Jansson had already developed, or would later develop in her Moomin novels.
Because the story is based around a search, the use of cut outs in this book is quite effective. A round cut out in the front cover allows the book's title page to be a feature of the cover, while cut outs on each page, each shaped specifically for the images Jansson has created, encourage a child to be actively engaged in the story. The refrain at the end of each page encourages young children to make guesses as to what will happen next. The cut outs on the left pages integrate a previous page effectively with the illustration on the current page to suggest a part of the adventure that is complete. The cut outs on the right pages offer tantalising glimpses of the next page which help with guessing. This engagement also includes a page about the Fillyjonk. Jansson offers a blank panel and encourages children to draw their own version of the Fillyjonk when she is calmer. The Fillyjonk was to later appear in Jansson's book of short stories, Tales from Moominvalley, and she is always portrayed as a nervous, neurotic character.
The story is written in a way that encourages reading aloud to a child. The use of couplets makes the story musical, with appealing rhymes and rhythms. This English version is by Sophie Hannah, an English poet who has based her version on a translation by Benjamin Tominson. But added to the appeal of the written word is its presentation by Peter Blegvad, who imitates Jansson's calligraphy. Anyone familiar with Jansson's map of Moominvalley and the handwritten note by Moomintroll to the reader in Finn Family Moomintroll, will know what to expect: lots of beautiful curlicues, changes in font size, and individualised styling for characters. Tominson's fonts complement Jansson's beautiful illustrations.
The book's cut out pages mean it is best used with children under supervision. It would be particularly good at bedtime. Its hardcover is robust enough, but the cut outs mean the pages will be easily torn by children. As for the story, it's a good introduction to the Moomin world, featuring characters from the novels, with only a hint of the darker, scarier world of Moomin in the form of a brief appearance by the electrical creatures attracted to storms, the Hattifatteners. As always, Moominmamma is a comfort and the world of Moomintroll and his friends is magical, even funny. I love it that Moomintroll and Mymble think they have to rescue Little My. Anyone who has read the novels knows how ridiculous this seems, and Jansson certainly uses it for a laugh.
I would recommend this book for use with pre-school children.
In this page the cut out is on the right hand side and we are told that this is the hole torn through the page by the Fillyjonk. Jansson has incorporated the book's format into the story, as well as allowing a glimpse of the next page so that a child might make a guess at what happens next.
---
Reviewed by
:
bikerbuddy
Translator:
Sophie Hannah
Category:
Children's Fiction
Date Read:
31 March 2023
Pages:
24
Published:
1960
The cover image of Who Will Comfort Toffle? offers a big clue about Toffle. While other Jansson characters gather in a group to speak, Toffle stands apart, looking at the reader, somewhat glum. A 'Toffle', like a Hemulen or Fillyjonk, is a type rather than a specific character. There is a Toffle in Moominland Midwinter, published three years before this picture book, but the Toffle in this book is just called Toffle. Toffle sits in his little house at night, afraid of all the noises he hears outside. He is cold and lonely, and Jansson's accompanying first illustration portrays other creatures from Jansson's world in giant proportions to represent Toffle's vulnerability. For the first part of the book the refrain at the end of each page asks, Who will comfort Toffle? Like a child, Toffle is afraid and vulnerable.
Nevertheless, Toffle sets out on a journey to "have a peek about". He cannot stand another night in his house. By leaving his house he exposes himself to a world full of people and gatherings. Everyone seems to have friends and a purpose except Toffle. It is not until he finds a message floating in a bottle, with a plea from the terrified Miffle for someone to help her that Toffle begins to find the confidence he needs. Miffle is terrified of the Groke, a cold and lonely creature who wanders the night and features in several Moomin novels. At this point, Toffle begins to find his courage, for he must put aside his own fears if he is to help Miffle. The refrain of each page changes: "Who will comfort Miffle?"
This is a really charming story, told with the same engaging rhyme and rhythm of Jansson's other translated picture books in this series. This time the translation is made entirely by Sophie Hannah and the calligraphy is again by Peter Blegvad. Jansson's illustrations are as charming as always, offering bleak monochromatic representations of Toffle and his fears, as well as the threat of the Groke, against the bright, colourful images that represent the happy world Toffle feels estranged from, as well as the happiness he later finds with Miffle.
Who will Comfort Toffle? is a more mature work than The Book about Moomin, Mymble and Little My. This book encourages engagement with its themes rather than with simple prediction: of loneliness, of fear, of not fitting in, as well as the positive steps that Toffle takes to overcome his problems, and the care and empathy that lead to his own and Miffle's happiness. So it is a book that might be used to initiate discussion with a child who is suffering from issues of withdrawal, or simply to encourage reflective thinking. As always in Jansson's stories, the wider world is delightful, mysterious and sometimes just a little scary.
This picture book would be a good introduction for young readers into Jansson's Moomin world, and a gateway into her Moomin novels.
---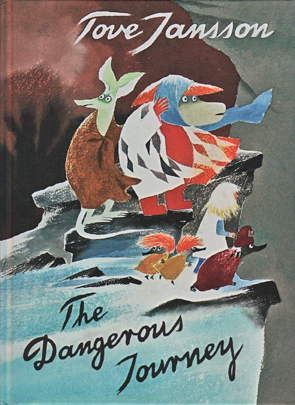 Reviewed by
:
bikerbuddy
Translator:
Sophie Hannah
Category:
Children's Fiction
Date Read:
31 March 2023
Pages:
32
Published:
1977
The Dangerous Journey features several minor characters from Jansson's Moomin novels: Sorry-Soo, the Hemulen, Bob and Thingummy. But it also features a new character, Susanna, who awakes in a grass field with her cat and decides that she is bored with her cat's serenity, and the beautiful field and flowers about her. Susanna decides she is "far too young to settle" and is drawn to the thought of "Danger, disaster, scandal!" Unfortunately for Susanna, it is a case of being careful what you wish for. When she takes her glasses off she loses them, only for another pair to appear. When she puts them on her world seems immediately transformed. Her cat is rotating in the sky and seems in a rage. And instead of the pleasant field the landscape suddenly seems dark and scary: a threatening forest and pond; and a coastline where the sea has drained away with its skies filled with soundless birds and red clouds. Susanna sees that her reality is being shaped by her own desires, so when she meets the Hemulen and his companions she has enough sense to realise that, "If I decide to be nice, then they'll be nice", as though the new vision afforded by her glasses is a dream she can control.
But the story isn't as simple as that, otherwise it would almost be over. Susanna must navigate a series of threats – a volcano, the threatening Groke and an unseasonable storm – before she and her new companions find refuge with Snufkin in a cave.
I thought this was the least successful of the three Jansson picture books. The first two engage their readers either in the act of prediction or through the emotional themes of the story. However, in this book the title suggests the core of the book – a journey – but the stakes in the journey are mostly physical threats past a certain point. After Susanna's realisation that she affects her own reality – a neat metaphor for how one acts and treats others in life – the story becomes a series of incidents and escapes which add little thematically to the story and merely delay the inevitable arrival in Moomin valley by hot air balloon. In a somewhat witty breaking of the fourth wall, Jansson's group are pursued by an angry monster. When Sniff calls out that he is feeling sick, Jansson breaks into the narrative:
Can our story wait for him?
I'd interrupt this rhyme,
But there's a waterfall to swim,
And we're running out of time.
I liked this humorous aside, but the stakes don't seem high, despite the apparent threats.
However, I must admit I was overcome by a moment of childhood nostalgia when I turned the page to reveal Susanna and her group flying into Moomin Valley. There is the valley, looking very much like the valley from the map at the beginning of Finn Family Moomintroll, in full colour. It was a map I poured over as a child and copied as best I could in my own hand. It's a moment that is true to Jansson's other Moomin stories too: that there is a dark and sometimes terrifying world out there, but at home there is comfort and safety.
While I don't think The Dangerous Journey was as engaging as Jansson's other two picture books, it is still beautifully presented and this English translation by Sophie Hannah has the same charm. Susanna is obviously a surrogate for a young reader, and her journey to Moominland will hopefully be the catalyst for some young reader to discover Jansson's wonderful series of books.
Jansson's stories are famous worldwide, even if their popularity is modest compared to some children's books. I have several pieces of Moomin merchandise. This jigsaw, which I am yet to attempt, features an image from the final pages of The Dangerous Journey.