Blog Archive - July 2021
1 July 2021
Last year bikerbuddy helped me install my street library. It was the third in our street and I made a geocache for it that advertised this. Then my neighbour across the road took his street library down. It was disappointing because I thought it made our street special. But a new library appeared across the street this weekend. I bumped into my neighbour. He said he removed the old library because he'd used wood not suited to the rain we've had in the last few months and it was being damaged. He's now replaced it with the library pictured below, which has a sliding shutter. It looks better suited to the weather. I'm hoping to see more activity now we have three libraries again.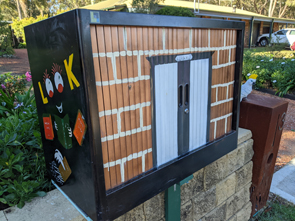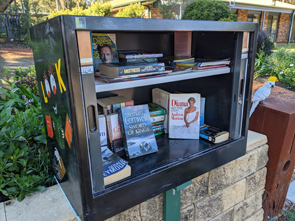 - Toriaz
2 July 2021
Comment Boxes
Yesterday I decided to experiment with placing a comment box at the end of our reviews. We've long had a Guestbook for this website, but that really only has a general application. We've sometimes had people contact us about specific reviews, including emails from a publisher and others not associated with Neocities. It seemed to make sense to provide a means to make comments directly to the website. After a quick experiment (aided by Neocities' Let's Learn Together) I placed comment boxes at the end of all reviews on our Recent Reviews carousel, on our Booker Prize winners, the Moomin Series as well as a few others I chose. Unfortunately, that still leaves most of our website without comment options (we currently have published 412 reviews, not including other projects). I'll probably add more comment boxes to already-published reviews from time to time, but it will be a feature on all new reviews. Thanks to 'BioProject' for being the first to place a comment. That was for our double review of Jules Verne's From the Earth to the Moon and H.G.Wells' The First Men in the Moon.
Below is an example of the comment boxes we're using. Make a comment if you want.
- bikerbuddy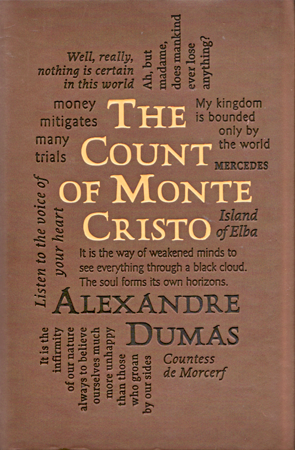 3 July 2021
The Count of Monte Cristo
I finally finished reading The Count of Monte Cristo this morning. I can't remember exactly when I started it, but I've been summarising the book, chapter by chapter, as part of a Special Reading Project for this site since I started. I stopped reading it for about 6 months when I became too busy with some home renovations, but the summary helped to return me to it. I've been trying to read a chapter a day since the beginning of April, which I've mostly kept to. I wrote the last chapter summary this morning.
For those interested in the book but daunted by its length, my summary is detailed enough that you will be able to follow every plot point and character. It's still 60,000 words long, the length of a short novel, but it's easy to follow (I hope). That will help support those who wish to read the book themselves, as well as those just interested in the broad outline. Toriaz has been following the summary since I started and has a good grasp of the story. In the next few days I'll be making a character map and some character outlines, and will try to get a review of the book up sometime next week.
My only regret? That I didn't finish this book on 5th of October!
- bikerbuddy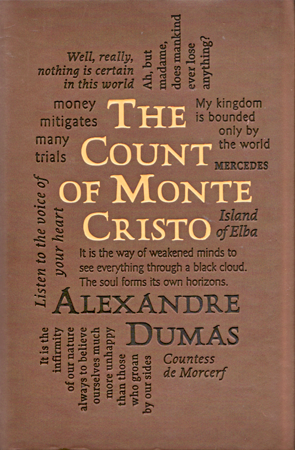 6 July 2021
The Count of Monte Cristo Special Reading Project Complete
I finished reading The Count of Monte Cristo three days ago. I've been summarising it chapter by chapter for months as part of a Special Reading project for this site. Since then I've been struggling (as I normally do) to get new site pages designed and not looking too terrible (and hopefully functional) getting a character map drawn, character descriptions written, the summary revised and a review written. On top of that, I had to reshuffle parts of our landing page since The Count of Monte Cristo is no longer an ongoing project. Hopefully, someone will find all this interesting enough to look at. Even better would be for someone to decide to read the book and find out what a great read it is!
Click here for The Count of Monte Cristo navigation page.
- bikerbuddy
8 July 2021
Agatha Christie Reading Challenge
This is a mid-year update on my Agatha Christie reading challenge (Read Christie 2021). I'm way ahead of target, with eight books read already. (I don't review books I'm reading for this challenge for Reading Project). This is a list of the books I've read and their category for the challenge in brackets):
The Sittaford Mystery (a story set in bad weather)
Why Didn't They Ask Evans? (a story featuring love)
Third Girl (a story set after WWII)
Murder at the Vicarage (a story featuring a vicar)
Sparkling Cyanide (a story starring a society figure)
The Hollow (a story set in a grand house)
Evil Under the Sun (a story set by the seaside)
Cards on the Table (a story set before WWII)
I've also read the short story collection Murder in Paradise but can't fit it into any of the remaining categories.
I wonder if anyone else reading this is reading Christie this year?
- Toriaz
15 July 2021
My Plans to Read all of Dickens
I recently finished our Special Reading Project for The Count of Monte Cristo. I was planning on starting another project based around Boccaccio's The Decameron. It seemed a fitting choice since the work was based on the premise of ten people telling stories to each other as they try to avoid the plague in Italy during the Renaissance. But I've long had the idea that I wanted to read all of Charles Dickens. I came to Dickens early, as a child, and my reading has been incomplete. I'd looked at David Copperfield, Great Expectations, A Tale of Two Cities, Bleak House, Hard Times and A Christmas Carol, and I read an abridged version of Oliver Twist when I was younger. I have always remembered my experience of Dickens fondly. But I read them many years (in the last ten years or so I've reread Great Expectations and A Tale of Two Cities) and I wanted to immerse myself in Dickens.
I had recently bought The Pickwick Papers and I started reading it over the weekend. I also acquired a copy of Oliver Twist recently, too. I decided to replace my editions of books I already had (excepting Bleak House) with new paperbacks I would feel comfortable making notes in, as well as completing my collection. So I ordered all the novels online (as much as I prefer to buy them from a shop, but we're in lockdown at the moment), as well as a short story and Dickens's essays, Sketches by Boz. This morning the first delivery came – some books are on backorder – so I decided to take a picture of them for this blog, along with the three I already had. I'm starting to work on a webpage for this new reading project as I start to make my way through The Pickwick Papers. I intend to read the books in order (in between other books I want to read).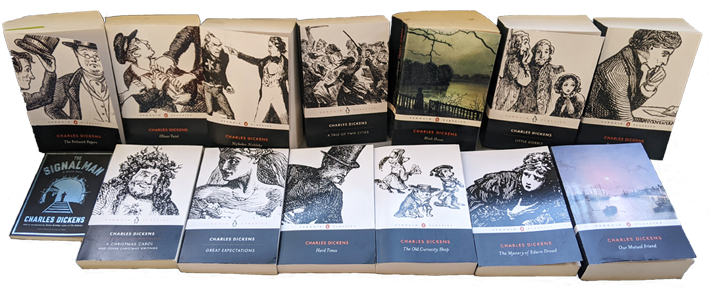 - bikerbuddy
21 July 2021
I won a book!!!
And I normally never win anything!
A few weeks ago I entered a competition on facebook to win a pre-release copy of a new book from Hachette Publishing. A week later I was happy to find that I'd won!
My book arrived today, and I am really looking forward to reading it. The book is The Turnout by Megan Abbott, a thriller set around two sisters who run a ballet school. I like a good thriller and I've spent way too much time over the past 15 years waiting around dance school and performances, so I'm looking forward to reading this one.
The picture on the left shows my pre-release copy of the book, which looks a little different to the cover shown on internet sites, on the right. The book is due for release on 3 August 2021.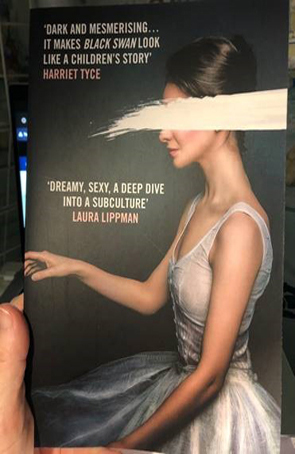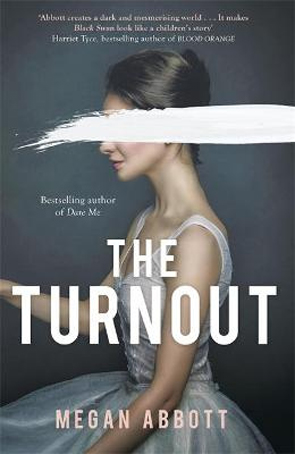 - Toriaz
12 July 2021
Lockdown and reading lists
Here in Australia we've been fortunate compared to most of the world concerning the pandemic. We've been able to lead relatively normal lives, usually with no Covid cases in the community during the last year. That all changed in the last fortnight with a sudden outbreak of cases which has forced Sydney back into lockdown, with no definite date for that to end. It could be weeks. For me, it gave me the excuse to sit down with my latest book over the weekend, Barack Obama's A Promised Land. Yesterday, I made it halfway through this rather large tome. So far, it's interesting. Obama also put out a list of books he's been reading during the northern summer. (Click here to view the list on Obama's Instagram). I noticed I'd read and reviewed two books on the list: Klara and the Sun by Kazuo Ishiguro and At Night All Blood is Black by David Diop, this year's International Booker Prize winner.
The lockdown has also pushed me into a reading pattern that may be difficult to sustain. Apart from Obama's book, I'm also now three quarters of the way through Marcel Proust's The Way by Swann's, the first volume of In Search of Lost Time, and I've started reading Charles Dickens's The Pickwick Papers. I read some Dickens when I was very young and have always wanted to return to his writing. I had this idea that I might read all his works (a reading list of sorts), which is ambitious in so much as I don't own them all and can't go buy them at the moment (yes, I know, the internet, but I do like to browse in bookshops). I will have to consider how practical what I am currently doing actually is.
- bikerbuddy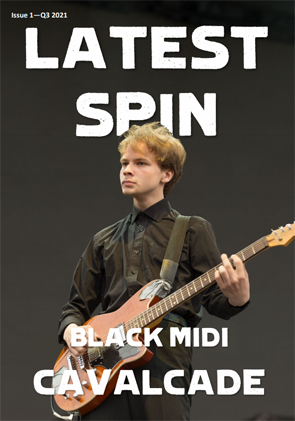 26 July 2021
Latest Spin Magazine
NickoHeap, who occasionally writes a review for this website, has been running his own website, latestspin.com, where he reviews music. He's been working on a magazine format of his website and has just released PDF version today which can be downloaded directly by following this link.
- bikerbuddy
27 July 2021
Booker Prize Longlist Announced
This year's Booker Prize Longlist is finally out:
A Passage North, Anuk Arudpragasam (Granta Books, Granta Publications)
Second Place, Rachel Cusk, (Faber)
The Promise, Damon Galgut, (Chatto & Windus, Vintage, PRH)
The Sweetness of Water, Nathan Harris (Tinder Press, Headline, Hachette Book Group)
Klara and the Sun, Kazuo Ishiguro (Faber)
An Island, Karen Jennings (Holland House Books)
A Town Called Solace, Mary Lawson (Chatto & Windus, Vintage, PRH)
No One is Talking About This, Patricia Lockwood (Bloomsbury Circus, Bloomsbury Publishing)
The Fortune Men, Nadifa Mohamed (Viking, Penguin General, PRH)
Bewilderment, Richard Powers (Hutchinson Heinemann, PRH)
China Room, Sunjeev Sahota (Harvill Secker, Vintage, PRH)
Great Circle, Maggie Shipstead (Doubleday, Transworld Publishers, PRH)
Light Perpetual, Francis Spufford (Faber)
We have a long-term goal for this website that we will eventually review all the Booker Prize winners. You can view the list of Booker Prize winners with links to our reviews by clicking here.
The 2021 shortlist will be announced 14 September. The winner will be announced 3 November. To visit the Booker Prizes website, click here.
- bikerbuddy