Blog Archive - June 2020
1 June 2020
As I was leaving home today, I noticed that my neighbour directly across the road from me was putting up a street library. Back in April bikerbuddy wrote about street libraries in this blog and shortly after that another resident in our street, only a few houses up from today's latest street library, used an old fridge to make their library.
I'd been coming around to the idea of putting a street library outside my own house prior to the COVID-19 crisis starting. When I decided I would do it, there was a lockdown and it was difficult to source materials.
No such problem for my neighbour. He told me he found his library dumped somewhere and has been meaning to put it up for a year, now.
It seems a little crazy to have a third library in our quiet dead-end street backing onto the bush, all within a hundred metres of each other. My neighbour encouraged me. He said we must be a literate street. Even so…
-Toriaz
10 June 2020
Restrictions for COVID-19 have been lifting here in Australia over the last few weeks. That made it possible for me to indulge in a trip to the city last weekend. When I checked my travel card, I discovered that it was the first time I have travelled into Sydney since January.
I was eager to browse a bookshop again and make a few purchases. To my surprise, I came across a collector's edition of the Moomin Series by Tove Jansson. I recently reread and reviewed Moominpappa at Sea, my favourite of the series. But my paperback copies from childhood are a bit worn, now, and these were nice hardbacks with dust jackets, illustrations and fold-out maps. How could I resist?
So, along with a number of other books I bought and many others I have awaiting attention, I will eventually get around to reviewing the rest of the Moomin series, if I don't die first.
-bikerbuddy
23 June 2020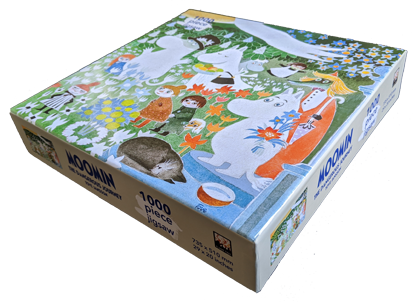 Jigsaw puzzles became popular here during the height of the Coronavirus, around March and April. Toriaz bought a couple for her family and my son commandeered our dining room table to do a few he bought. But I resisted…
Until yesterday.
When I again went to Sydney yesterday to get a couple of books not available in our smaller suburban bookstores, I found, prominently displayed, this Moomin Jigsaw: Moomin: The Dangerous Journey. There was only one.
In my last blog I wrote about buying eight books in the Moomin series in hardback. I am also waiting for Moomins and the Great Flood to arrive from England, due next month.
So, when I saw the jigsaw, I really had no choice!
-bikerbuddy