Blog Archive - June 2018
1 June 2018
Having decided to create an About page with profiles of our reviewers, we thought we'd go one step further and include a blog on the page with news relating to the website
2 June 2018
The Gold Booker Prize short list was announced yesterday, with the surprise that Salman Rushdie's Midnight's Children did not make the cut, after it has twice received the Booker of Bookers Award. Penelope Lively's Moon Tiger was selected for that decade, instead.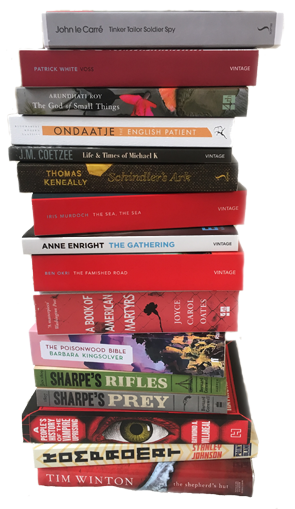 3 June 2018
Today we travelled into Sydney for bikerbuddy's birthday. Everyone knows to give him money for books or book shop gift cards. He bought 16 books, including 8 books towards the Man Booker Project.
5 June 2018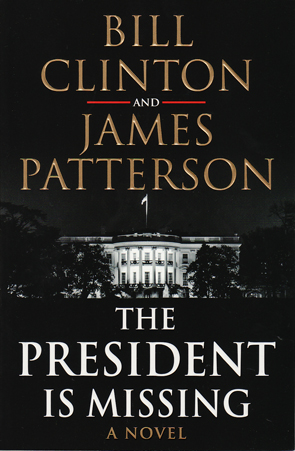 The Sydney Morning Herald and The Guardian have run articles this morning about a new book, The President is Missing by James Patterson which he wrote in collaboration with President Bill Clinton. I've never read a book by James Patterson before but I was intrigued, so I bought myself a copy this morning.
It's funny that there seems to be so many books about the presidency lately. I know books, movies and television series have long existed, but it's beginning to feel like I could create a new category for books based on the candidacy or presidency of Donald Trump alone. The book I'm currently finishing by Salman Rushdie, The Golden House has an unnamed presidential candidate who is obviously based on Trump. There was also the book by Howard Jacobson I reviewed last year, Pussy. Enough said about that.
I'll try to read Patterson's book as I make by way through four Man Booker Prize winners this month, also. It could be busy.
14 June 2018
Finally watched The English Patient this afternoon after finishing the book this morning. I bought it cheap yesterday. I've never watched it before (as implied by my finally) Actually, I tried to watch it years ago and just couldn't get into it. I think I described it as bat-shit boring if that means anything. I must have been in the wrong mood for it, or perhaps reading the book helped. I loved the movie and the book. My son thought it was too long. Maybe he'll love it more later.
17 June 2018
I had a day to myself today so I went back to Sydney to try to pick up a few more Man Booker Winners for that reading project. I managed to find The Line of Beauty by Alan Hollinghurst, Offshore by Penelope Fitzgerald, The Old Devils by Kingsley Amis and The Ghost Road by Pat Barker. I also bought Olga Tokarczuk's Flights which won the Man International Booker Prize this year. Since 2016 the Man International Booker has been awarded to a specific book translated into English (prior to that it was awarded for bodies of work). I decided to add the Man International Booker Prize to the current Man Booker project, so I'll hopefully get that page adjusted, or an additional page prepared on the site in the next few days to keep track of that.
17 June 2018
We just found a blog tonight with a similar Man Booker project to our own. Stephanie Turner, an English, French and Yoga Teacher in the United States, has set herself the goal of reading all the Man Booker Prize winners in 2018. That's a little bit more hardcore than our goal, since we'd like to review other books as well along the way. Nevertheless, we'd like to review them all eventually, and we're still trying to acquire all the books. Meanwhile, here's a link to Stephanie Turner's blog, if anyone is interested. She doesn't know I've posted this, so be nice to her if you make any comments!
18 June 2018
I hit he local bookshops today to see whether I could find some second hand copies of the past Man Booker winners. I managed to pick up Nardine Gordimer's The Conservationist, Paul Scott's Staying On, Ruth Prawer Jhabvala's Heat and Dust, Kiran Desai's The Inheritance of Loss and Howard Jacobson's The Finkler Question, which I originally read as an ebook. I'm beginning to feel like there's an awful lot of reading to be done for the rest of the year (and beyond). I have a huge backlog of books, now, in addition to the Man Booker list.
21 June 2018
A few days ago I was content to chase down the remaining Man Booker Prize winning books in bookshops. But it became clear that that was going to be difficult, since a couple are actually out of print at the moment. So today I got online and ordered the last nine books. I should receive the first of them by late next week. I should have all of them by late July. No hurry, though. We now have a stack of books backlogged, not to mention anything new that might come out that catches our eye.
26 June 2018
I finished Wolf Hall this morning, the last of the five books nominated for the Golden Booker Prize. It was the second time I read it, the first being when it first came out, so there was a lot I had forgotten. I've read all five Golden Booker nominees, although I read In a Free State thirty years ago. Toriaz reviewed that one for our site. However, if I were to predict the winner which is announced on 8 July, I would discount it. I figure the most recent books will have the best chance, given it is a popular vote. The English Patient is well known, but I think it will be between Lincoln in the Bardo (2017) and Wolf Hall (2009). While I liked Lincoln in the Bardo a lot, I actually prefer the reading experience of Wolf Hall more. I'll talk more about it in my review, although that might be slow coming, given that I have a few things on in the next few days. But I guess Wolf Hall would have been my vote, had I not lost track of the date and missed the deadline. Oh, the irony!