1 March 2022
The Proust Graphic Novel
Last year I read Marcel Proust's In Search of Lost Time: The Way by Swann's for the first time. I had long known its reputation and the sheer length of the six volumes made me think I wanted to approach reading it as a Special Reading Project for this site, perhaps over the course of several years. I found that I loved being absorbed in the slow unfolding of Proust's tale, of Marcel's childhood and the exploration of his life through memory. Each scene, each character were created as part of a rich tapestry of feeling, place, of culture and detail.
Naturally, I began searching around for some other material on Proust and discovered Ben McEvoy's YouTube video about Stéphane Heuet's adaptation of Proust's first volume into a graphic novel format. If you're interested, you can view the video by clicking here.
Naturally, I was interested in the book and ordered it from booktopia.com. They didn't give me a lot of hope. They weren't sure whether they could procure it and could give me no fixed time period for delivery. Nevertheless, I was lucky, and in about a month I had the book in my hands. Here is my copy of the graphic novel, alongside the copy I read of Lydia Davis's translation of The Way by Swann's (also known as Swann's Way):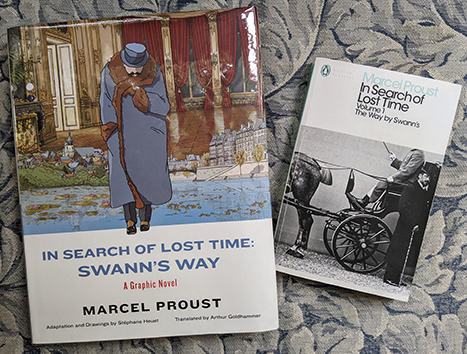 Here is an example of Stéphane Heuet's interpretation of Proust in graphic novel form: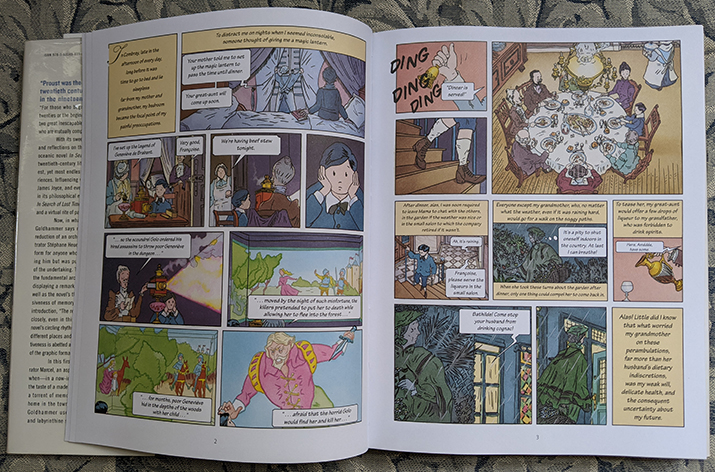 I'm really eager to get a Special Reading Project page started for Proust, although realistically, I have to juggle my time between reading a range of more recent books I'm interested in, as well as my ongoing efforts to read all the Booker Prize winners, all of Charles Dickens's novels and some other works of his, as well as begin my reading of all of George Eliot's novels (I received the last volume of her work, Scenes of Clerical Life, with my graphic novel of Proust). But getting Proust started means not only do I want to read the graphic novel, but I need to reread the first volume.
I have an idea of all the content I want on this website right now, but I know it could take years to put it all together!
- bikerbuddy
2 March 2022
A Second Proust Graphic Novel
I wrote in this blog yesterday about receiving the graphic novel version of Proust's Swann's Way. I'd waited a month for it but I was happy since it seemed the book would be hard to procure.
As I was putting the blog post together I re-watched parts of Ben McEvoy's video in which he shows off his copy of the book. When I first watched it I hadn't intended to buy it, but when I read Swann's Way my mind went back to it. However, I didn't remember that Stéphane Heuet had published a second graphic novel for Proust's second volume, In the Shadow of Young Girls in Flower. I checked for it on booktopia.com, but they didn't list it. Luckily, Amazon Australia had a copy, so I purchased it last night. What's better, Amazon's estimated delivery time is tomorrow!
I am a happy chappy.
- bikerbuddy
9 March 2022
Women's Prize Longlist Announced
The longlist for the Women's Prize for Fiction was announced on International Women's Day.
This year there are sixteen (16) books from around the world on the longlist:
The shortlist will be announced on 27 April and the winner on 15 June. A description of each book can be found on the Women's Prize website - https://womensprizeforfiction.co.uk/
- Toriaz
11 March 2022
Booker International Longlist Announced
It's been a busy week for longlist announcements. We had the Women's Prize longlist announcement a few days ago, and now it's the International Booker 2022 Longlist. This prize is given each year to a work of fiction translated into English, it celebrates both the author and the translator.
This year thirteen (13) books made the longlist, with books from twelve (12) countries and eleven (11) languages making the list, including a book translated from Hindi for the first time.
The shortlist will be announced on 7 April and the winner announced on 26 May 2022.
Longlisted books: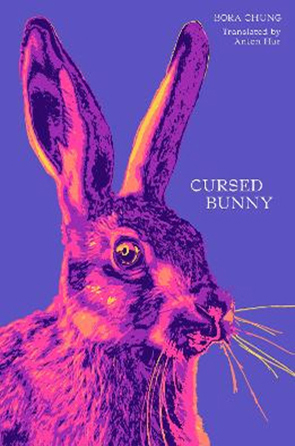 Cursed Bunny
(저주토끼) by Bora Chung, translated from Korean by Anton Hur (Honford Star)
Blurring the lines between magical realism, horror, and science-fiction, Chung uses elements of the fantastic and surreal to address the very real horrors and cruelties of patriarchy and capitalism in modern society.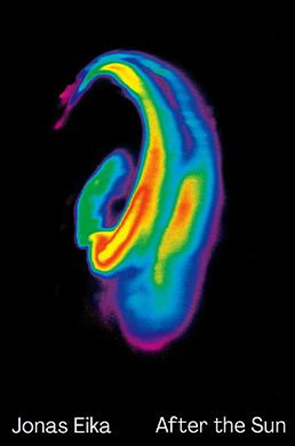 After the Sun
(Efter solen) by Jonas Eika, translated from Danish by Sherilyn Hellberg (Lolli Editions)
An enigmatic encounter in Copenhagen takes an IT consultant down a rabbit hole of speculation that proves more seductive than sex. The collapse of a love triangle in London leads to a dangerous, hypnotic addiction. In the Nevada desert, a grieving man tries to merge with an unearthly machine. After the Sun opens portals to our newest realities, haunting the margins of a globalised world that's both saturated with yearning and brutally transactional.
A New Name: Septology VI-VII
(Eit nytt namn - Septologien VI - VII) by Jon Fosse, translated from Norwegian by Damion Searls (Fitzcarraldo Editions)
Asle is an aging painter and widower who lives alone on the west coast of Norway. His only friends are his neighbor, A sleik, a traditional fisherman-farmer, and Beyer, a gallerist who lives in the city. There, in Bjorgvin, lives another Asle, also a painter but lonely and consumed by alcohol. Asle and Asle are doppelga ngers--two versions of the same person, two versions of the same life. Written in melodious and hypnotic "slow prose," A New Name is the final installment of Jon Fosse's Septology, "a major work of Scandinavian fiction"
More Than I Love My Life
( (אתי החיים משחק הרבה) by David Grossman, translated from Hebrew by Jessica Cohen (Jonathan Cape)
On a kibbutz in Israel in 2008, Gili, along with the entire community, is celebrating the 90th birthday of her grandmother Vera, the adored matriarch of a sprawling and tight-knit family. Onto the scene enters Nina- the iron-willed daughter who rejected Vera's care; and the absent mother who abandoned Gili when she was still a baby. Nina's return to the family after years of silence precipitates the gripping, heart-wrenching story that unfolds, in which mother, daughter and grandmother are forced to confront the past head-on. Together with Rafael - father to Gili, lover to Nina and step-son to Vera - the three women embark on an epic journey to the desolate island of Goli Otok, formerly part of Yugoslavia. It was here, five decades earlier, that Vera was held and tortured as a political prisoner. And it is here that the three women will finally come to terms with the terrible moral dilemma that Vera faced, and that permanently altered the course of their lives.
The Book of Mother
(Fugitive parce que reine) by Violaine Huisman, translated from French by Leslie Camhi (Scribner)
Beautiful and charismatic, Catherine, aka 'Maman', smokes too much, drives too fast, laughs too hard and loves too extravagantly. During a joyful and chaotic childhood in Paris, her daughter Violaine wouldn't have it any other way.
But when Maman is hospitalised after a third divorce and breakdown, everything changes. Even as Violaine and her sister long for their mother's return, once she's back Maman's violent mood swings and flagrant disregard for personal boundaries soon turn their home into an emotional landmine. As the story of Catherine's own traumatic childhood and coming of age unfolds, the pieces come together to form an indelible portrait of a mother as irresistible as she is impossible, as triumphant as she is transgressive.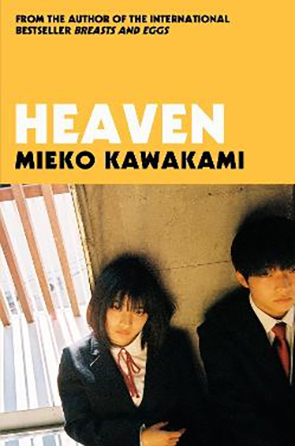 Heaven
(ヘヴン) by Mieko Kawakami, translated from Japanese by Samuel Bett and David Boyd (Europa Editions)
Kawakami's novel is told in the voice of a fourteen-year-old student subjected to relentless torment for having a lazy eye. Instead of resisting, the boy suffers in complete resignation. The only person who understands what he is going through is a female classmate who suffers similar treatment at the hands of her tormenters.
The young friends meet in secret in the hopes of avoiding any further attention and take solace in each other's company, completely unaware that their relationship has not gone unnoticed by their bullies . . .
Paradais
(Páradais) by Fernanda Melchor, translated from Spanish by Sophie Hughes (Fitzcarraldo Editions)
Inside a luxury housing complex, two misfit teenagers sneak around and get drunk. Franco Andrade, lonely, overweight, and addicted to porn, obsessively fantasizes about seducing his neighbor-an attractive married woman and mother-while Polo dreams about quitting his grueling job as a gardener within the gated community and fleeing his overbearing mother and their narco-controlled village. Each facing the impossibility of getting what he thinks he deserves, Franco and Polo hatch a mindless and macabre scheme.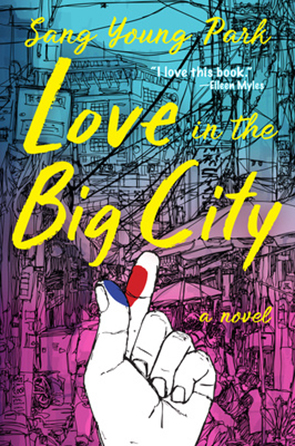 Love in the Big City
(대도시의 사랑법) by Sang Young Park, translated from Korean by Anton Hur (Tilted Axiss Press)
Told in four parts that recall the structure of Han Kang's The Vegetarian, Love in the Big City is an energetic, joyful, and moving novel that depicts both the glittering nighttime world of Seoul and the bleary-eyed morning-after. Young is a cynical yet fun-loving Korean student who pinballs from home to class to the beds of recent Tinder matches. He and Jaehee, his female best friend and roommate, frequent nearby bars where they push away their anxieties about their love lives, families, and money with rounds of soju and ice-cold Marlboro Reds that they keep in their freezer. Yet over time, even Jaehee leaves Young to settle down, leaving him alone to care for his ailing mother and to find companionship in his relationships with a series of men, including one whose handsomeness is matched by his coldness, and another who might end up being the great love of his life.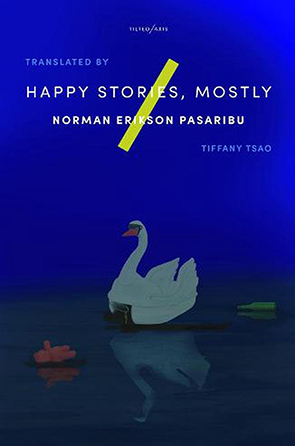 Happy Stories, Mostly
(Cerita-cerita Bahagia, Hampir Seluruhnya) by Norman Erikson Pasaribu, translated from Indonesian by Tiffany Tsao (Tilted Axis Press)" style="width:20%; float:left; padding:8px;"
Happy Stories, Mostly is a collection of twelve stories that queer the norm. Inspired by Simone Weil's concept of 'decreation', and often drawing on Batak and Christian cultural elements, these tales put queer characters in situations and plots conventionally filled by hetero characters.
The stories talk to each other, echo phrases and themes, and even shards of stories within other stories, passing between airports, stacks of men's lifestyle magazines and memories of Toy Story 3, such that each one almost feels like a puzzle piece of a larger whole, but with crucial facts – the saddest ones, the happiest ones – omitted, forgotten, unbearable.
A blend of science fiction, absurdism and alternative-historical realism, Happy Stories, Mostly is a powerful puff of fresh air, aimed at destabilising the heteronormative world and exposing its underlying absences.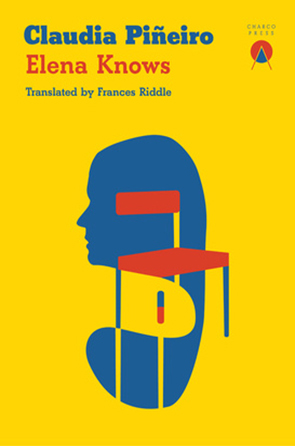 Elena Knows
(Elena sabe) by Claudia Piñeiro, translated from Spanish by Frances Riddle (Charco Press)
After Rita is found dead in a church she used to attend, the official investigation into the incident is quickly closed. Her sickly mother is the only person still determined to find the culprit. Chronicling a difficult journey across the suburbs of the city, an old debt and a revealing conversation, Elena Knows unravels the secrets of its characters and the hidden facets of authoritarianism and hypocrisy in our society.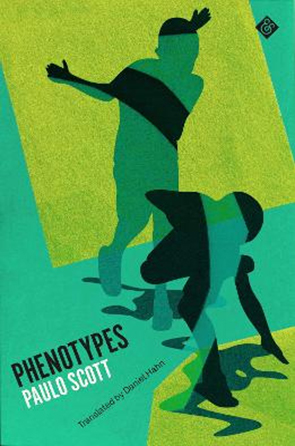 Phenotypes
(Marrom e Amarelo) by Paulo Scott, transalated from Portuguese by Daniel Hahn (And Other Stories)
Federico and Lourenco are brothers. Their father is black, a famed forensic pathologist for the police; their mother is white. Federico - distant, angry, analytical - has light skin, which means he's always been able to avoid the worst of the racism Brazilian culture has to offer. He can 'pass' as white, and yet, because of this, he has devoted his life to racial justice. Lourenco, on the other hand, is dark-skinned, easygoing, and well-liked in the brothers' hometown of Porto Alegre - and has become a father himself.
As Federico's fiftieth birthday looms, he joins a ludicrous yet chilling governmental committee in the capital. It is tasked with quelling the increasingly violent student protests rocking Brazil by overseeing the design of new piece of software that will remove the question of race from the hands of fallible, human, prejudiced college administrators by adjudicating who does and doesn't warrant admittance as a non-white applicant under new affirmative-action quotas. Before he can come to grips with his feelings about this initiative, not to mention a budding romance with one of his committee colleagues, Federico is called home: his niece has just been arrested at a protest carrying a concealed gun. And not just any gun. A stolen police service revolver that he and Lourenco hid for a friend decades before. A gun used in a killing.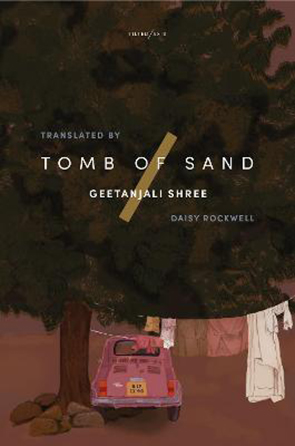 Tomb of Sand
(रेत समाधि) by Geetanjali Shree, translated from Hindi by Daisy Rockwell (Tilted Axis Press
An eighty-year-old woman slips into a deep depression at the death of her husband, then resurfaces to gain a new lease on life. Her determination to fly in the face of convention – including striking up a friendship with a hijra (trans) woman – confuses her bohemian daughter, who is used to thinking of herself as the more 'modern' of the two.
At the older woman's insistence they travel back to Pakistan, simultaneously confronting the unresolved trauma of her teenage experiences of Partition, and re-evaluating what it means to be a mother, a daughter, a woman, a feminist.
The Books of Jacob
(Księgi Jakubowe) by Olga Tokarczuk, translated from Polish by Jennifer Croft (Fitzcarraldo Editions)
As new ideas-and a new unrest-begin to sweep the Continent, a young Jew of mysterious origins arrives in a village in Poland. Visited by what seem to be ecstatic experiences, Jacob Frank casts a spell that attracts a fervent following. He reinvents himself again and again, converts to Islam and then Catholicism, is pilloried as a heretic and revered as the Messiah, and wreaks havoc on the conventional order, Jewish and Christian alike, with scandalous rumours of his sect's secret rituals and the spread of his iconoclastic beliefs. The story of Frank-a real historical figure, a divisive yet charismatic man-is the perfect canvas for the genius and unparalleled reach of Olga Tokarczuk.
- Toriaz
16 March 2022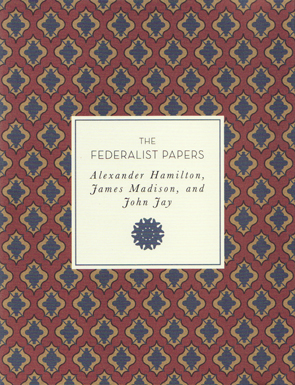 The Federalist Papers index
My resolve to start indexing my work on The Federalist Papers last month has, so far, been kept. I've been trying to read a paper in the morning when I can, reread my notes and then work on the index for that paper. So far I've completed 12 papers. While this project may be a personal passion of no interest to anybody else (no one in my family understands!) there may be someone out there as strangely fascinated with The Federalist Papers as myself. For that person, you can view The Federalist Papers page by clicking here. The index is accessible through a hamburger menu located in the top left of that screen.
- bikerbuddy
27 March 2022
Who Wants to be a Millionaire?
I've spent most of today writing a review for George Eliot's Scenes of Clerical Life. The review will be our 473rd for this website, and my personal 260th. The review has gotten away from me a bit. It's one of the longest I've written. Close to 4000 words. Given my time constraints for the rest of this afternoon – and my computer fatigue – I will probably put the page together and publish it tomorrow.
While I've been writing that I've been keeping an eye on the profile page of our website that appears on Neocities. I've been expecting to get our one millionth view sometime today, which is probably what has kept me writing while I wait. I'm happy to say, we passed that milestone close to 3:30pm. Thanks to everyone who has taken an interest in our site, with a special thanks to those who have contributed.
- bikerbuddy