Blog Archive - January 2022
1 January 2022
Happy New Year! (We hope)
The beginning of 2022 sees in the sixth year for the Reading Project. Last night, New Year's Eve, we posted two new reviews, bringing the number of book reviews to 451 since 2017, for 447 different books. We've now written well over half a million words for book reviews, alone.
I have a couple of new things to try in the New Year, although the reality is that many of my plans are somewhat chaotic at the moment. In the immediate future – that is, this month – we hope to conduct our first author interview, as well as produce our first video for YouTube. The video idea is recent. We don't intend to become regular book vloggers on YouTube, but we might put one out occasionally for specific purposes.
As for the chaotic mess of other plans, I am still yet to get together my plan to read the Famous Five series by Enid Blyton. I started that about a year ago when I actually wrote some short essays based on the first five or six books. But I'm yet to find the time to work out exactly how I want it presented or even simply how to put pages together.
Added to this is my decision to read all of Charles Dickens's works. I've been reading the novels in order and have Barnaby Rudge to read next. Last night, I also ordered Dickens's more obscure works: Pictures from Italy, Notes from America, his journalistic writings, as well as an anthology of his short stories.
Toriaz has plans to dive deep into the Golden Age of crime fiction. She is currently reading a book by Martin Edwards on the subject. WaywardWoman continues her meandering course through popular fiction and biography.
I also decided to rebrand slightly for this year. In 2020 we had an obvious icon to use at the top of our pages for that year:
Last year we just put the year over the book cover of our logo. This year seemed to offer another opportunity to do something jokey:
That's right, our logo is wearing a tutu (22) for 2022!
(Note: You may have to refresh your browser history to see the new icon at the head of the pages)
- bikerbuddy
2 January 2022
Reading Journal
I'm trying out something new this year – I've decided to keep a journal of what I read. I'm not going too fancy with my layouts or trying to track a huge amount of statistics (Goodreads does that already).
My journal will be more a place to record my thoughts on each book as I read, or reminder notes. For my current book on the history of the Detection Club, I've been using it to jot down a list of mysteries I would like to read over the year. Here's a sample of my efforts to prepare my journal:
I'll also use it to track a few reading challenges, such as Read Christie 2022 and Cloak and Dagger 2022.
- Toriaz
6 January 2022
A Joint Reading Day
It's already almost a week into the New Year and it feels like time is getting away as it usually does. I spent today with Toriaz at her place, with us both reading Michael Duffy's The Problem with Murder together. Duffy's book was the subject of a post in this blog last month. When the author found our post and contacted us, I was happy when he agreed to do an interview about his book, set here in the Blue Mountains. We hope to get to that interview later this month.
Today has been productive. Toriaz and I have both finished the book and we agree, it's a good read. Even better, it's thought provoking. We'll have more to say when we manage to get the time to write what will be our first joint review. Here is a totally candid photo of our reading session!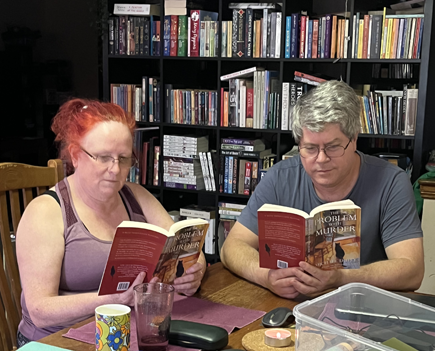 Before that, we thought we might take a trip up the mountain tomorrow and visit some of the locations and bookstores mentioned in Duffy's novel. Toriaz is also eager to try out the hot chocolate store near Echo Point (Blue Mountains Chocolate Company), which also appears in the story.
- bikerbuddy
11 January 2022
YouTube Newbies! (and COVID)
It's finally happened. My son tested positive for COVID a few days ago and this morning my wife came down with the same symptoms. She went to get a test this morning. My son's symptoms are mild and so it seems are my wife's, so far.
So, we're all now confined to our house once again.
I've been toying with the idea of starting a YouTube channel linked to this site for a while and the other day Toriaz and I did some filming in the Upper Mountains for a book we reviewed yesterday, The Problem with Murder by Michael Duffy. I thought, given that we're confined to the house, I might start editing that today. Then I decided I would do an introductory video before that. So I did some filming on the front veranda this morning to avoid other members of my family and cut it together quickly. Hey presto! Our first YouTube video is up.
(And there's nothing like seeing yourself on YouTube to make you realise just how terrible I look and sound!)
I'll try to cut the other footage about Duffy's book in the next few days. In the meantime, it would be really nice to have a few people watch the introductory video. Even better, if you subscribe to the channel! I can't promise to produce material regularly, but we'll try. In the meantime, click the YouTube symbol to watch the video. It's about 7 minutes.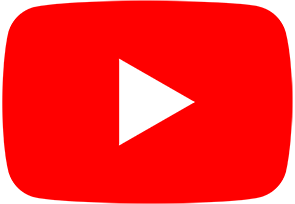 - bikerbuddy
13 January 2022
Penguin - The Original 10
Last week while we were in Katoomba filming locations for Michael Duffy's book, The Problem with Murder, we discovered the downstairs section of Mr Pickwick's Fine Old Books, which features in our first video. The downstairs section of the shop was amazing. It had a huge Penguin range. At the moment, I'm interested in collecting old Penguins, even if I don't intend to read them, just for their aesthetic. So I couldn't go past these:
Apart from the other books I picked up cheap (including several Doctor Dolittles), the books to look at are in the cardboard sleeve. They are a set, a facsimile edition published in 1985 of the original ten Penguins, first published in 1935. The first ten books published by Penguin included Hemingway's A Farewell to Arms, as well as titles from Agatha Christie and Dorothy L. Sayers. Anyone who has purchased a modern orange Penguin has probably read the story on the back cover of how Allen Lane, while waiting on a railway platform in 1935, wished there were "intelligent books at a cheap price". The authors and titles included in the first ten all represented popular choices for the time. The huge success of the initial offering (and of Penguin's continuing success from that initial offering) attests to that. But some of the titles – Ariel, a biography of Percy Shelley, for example – are not as popular today.
Penguin Publishers has a page about the original 10, which you can access by clicking here.
- Toriaz
27 January 2022
Our First Author Interview!
Today is a new experiment for our website. It's the first time we have featured an interview with an author we have reviewed. We reviewed Michael Duffy's The Problem with Murder, an excellent crime fiction set in the Blue Mountains, west of Sydney. We look forward to reading Michael's next book in the Bella Greaves series, The Strange Death of Paul Ruel, planned for release in November of this year.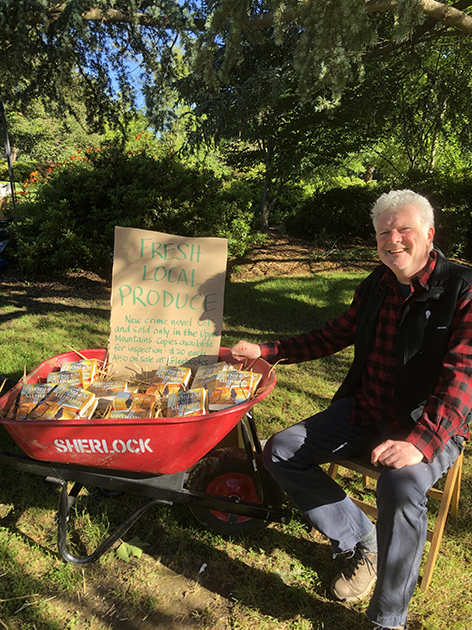 Michael Duffy, selling his local produce at Blackheath Market
- bikerbuddy