Blog Archive - September 2022
1 September 2022
Karl
I have an IKEA kitchen trolley I use to store books that I wish to read next I call Karl.
Karl has complained lately that's he's under too much pressure. He says I'm increasingly putting just too much on his shoulders and that it has to stop.
He might have a point. It's got to a point where I've had to adopt a baby Karl* to help out with the load.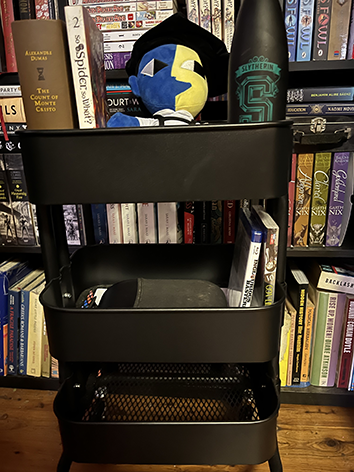 It all came to a head today when I came home with a few of Pratchett's Discworld books and added them to the pile. Karl actually trembled and we looked to be in serious trouble. It was almost like the wafer scene in Monty Python's The Meaning of Life, but with books.
Action has now been taken. Karl is still stocked with enough books to keep me going for over a year, but the rest have returned to the bookshelves. I've promised that I will stop adding more books on top and actually read a few of the ones left. Harmony has been restored.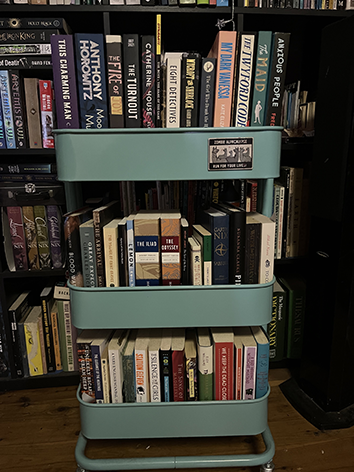 * baby Karl is actually called Geth. He belongs to my son. I bought him when said son decided he wanted to read The Count of Monte Cristo, then carelessly left the book on top of Karl, assuming he had a right to just add any books he wanted to MY book cart.
- Toriaz
2 September 2022
The Blue Mountains Bookshop Trail Map
I was at our local bookshop the other day when I noticed a new promotion pamphlet for Blue Mountains bookstores. It includes the cute map you see below under the title 'Blue Mountains Bookshop Trail'. I liked the map and the idea that tourists might plan a visit to our area by following a trail of book stores up the mountain. So I decided to contact the relevant people for permission to reproduce the map on this website.
I thought I could use the map for a few things. First, is my 'quest' to learn more about web design, which led me to placing links on all the bookstore images on the map so you can follow your own virtual trail of Blue Mountains bookstores through their websites and social pages. Run your cursor over the map and you will see what I mean: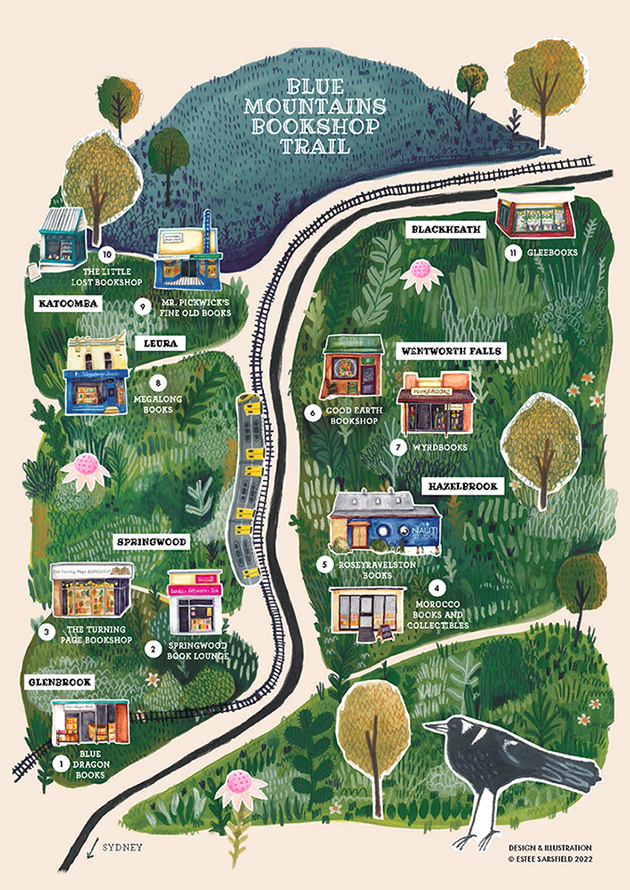 Second, I thought I might use the map as the starting point for our own tour of the book stores in the next month or two. I actually haven't visited them all. A couple are relatively new, like Wyrd Books in Wentworth Falls, which replaced Lambda Books where we filmed part of a video earlier this year.
I'm still figuring out exactly how I am going to present this on the website. It might be just a series of blogs, or maybe something more ambitious on our front page, depending on time and my limited knowledge of web design. But for now, working out the map and how to do the various links has taken me all morning and I haven't read or done anything else today. So, the rest can be decided later.
- bikerbuddy
5 September 2022
A weekend with Gravity's Rainbow
This weekend marked the beginning of spring in Australia. During the last week of winter we'd been having some warm spring-like weather. But that changed over the weekend after spring officially sprung. It was cold and the rain was back. It was a good couple of days to curl up in front of a fire and read.
As a result, I managed to make some headway on Pynchon's Gravity's Rainbow. My reading of it has been interrupted by all manner of things, from other projects not related to this website, to family commitments. I visited Toriaz to talk about some long-term reading projects we would like to jointly undertake (on top of my impossible list of projects I have slated for the future already!) I spent some time in front of her fire with her cat Pickles to keep me company as I read more of Gravity's Rainbow.
Gravity's Rainbow is turning out to be an amazingly entertaining read. But it takes some patience. Sometimes it requires careful reading and a bit of online research to nail some of the very specific historical and cultural references. The plot is somewhat unwieldy, going off on tangents that sometimes only make sense a couple of hundred pages later. I'm halfway through the book, as the picture above might suggest, and there are new elements being introduced all the time that somehow seem to link to the main story, but only with a vague promise, it seems. There are some scenes (many in fact) that are simply laugh-out-loud hilarious. I'm looking forward to getting more consistent reading sessions with the book in the next two weeks.
- bikerbuddy
6 September 2022
Reading Project Street Library - Second Birthday!
It's the Reading Project street library's second birthday this week! It hasn't changed much except the books it holds and I've also cleared some of the garden around it. I also put a pretty decoration on top to make it happy. And I've just realised, it has no name! My book trolley is 'Karl' but my street library has no identity. Is it too late to change that?
- Toriaz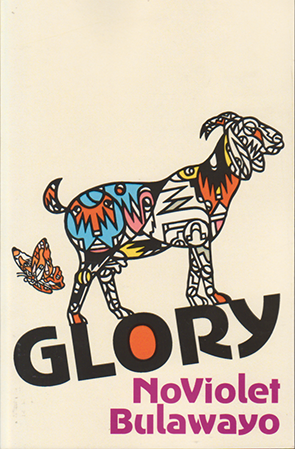 7 September 2022
The Booker Prize Shortlist 2022 Announced
The shortlist for the Booker Prize 2022 has been announced, with six books in the running:
Glory by NoViolet Bulawayo
Small Things Like These by Claire Keegan
The Trees by Percival Everett
The Seven Moons of Maali Almeida by Shehan Karunatilaka
Oh William! by Elizabeth Strout
Treacle Walker by Alan Garner
I've recently reviewed Small Things like These and Oh William!. If the prize was a choice between those two books I would pick Oh William!. I also recently purchased Glory based upon what I had heard about the book. I'm going to try to read it before the winner is announced on 17 October. I'm going out on a limb again this year – I've done this before for books I haven't yet read – and predict Glory will win the prize this year based solely on what I have heard about it.
We'll see!
- bikerbuddy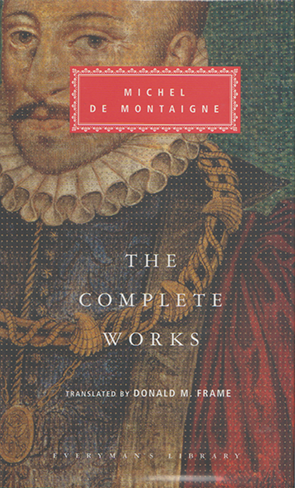 8 September 2022
Michel de Montaigne
Last month I decided to treat myself to an Everyman edition of Michel de Montaigne's Complete Works. The edition I bought includes all of Montaigne's essays, letters and travel journals. I had to order it online as there was no chance of finding it in any of our Sydney bookstores. The book turned up this morning.
Montaigne (1533 – 1592) was an essayist at roughly the same period – just a little bit before - as William Shakespeare (1564 – 1616) and Miguel de Cervantes (1547 – 1616) were writing. He was a humanist who wrote about tolerance and inquiry among other things. His writings anticipated Enlightenment thinkers. His influence on the formation of the American constitution, for instance, is evident in The Federalist Papers.
I have no plan to write further about Montaigne's works on this website – unless of course some unforeseen aspect of his writing later changes my mind – but I wanted to mention it in this blog today. It's possible – a slim chance, but entirely possible – that someone who reads this might become interested in checking out some of Montaigne's writing. For my own part, I just intend to read a little bit of Montaigne each day. The short nature of his essays makes this an ideal way to appreciate him, in my opinion.
- bikerbuddy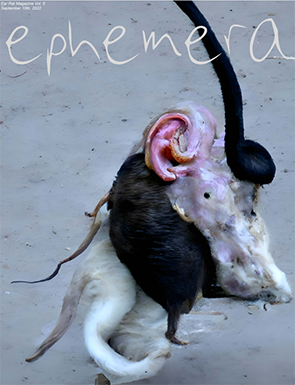 11 September 2022
Ear Rat Magazine Volume 6 already out!
Hasty, our occasional (and much-valued!) reviewer has a side hustle called Ear Rat Magazine. Volume 5 of Ear Rat was released upon the world last month. Its theme was 'The 90s'. I covered its release in this blog at the time, and then, having done my duty, I was readying to settle into a little snore on the couch, when Hasty sent out a clarion call: Ear Rat Magazine was to appear for its sixth incarnation in only a month!
I must say, I was taken by surprise. Hasty, a somewhat dilatory fellow, had spent a good part of the year cobbling Volume 5 together, so his new determination seemed optimistic. Even so, I obediently sharpened my pencil, dug about in my brain, and recorded my thoughts for the next edition. This time the theme is 'Ephemera'.
If you would like to download your copy of Ear Rat Magazine Volume 6 – Ephemera, you can click here or click on the cover image (if you dare touch it!) You'll be taken to a page where you can start your download. Enjoy!
- bikerbuddy
15 September 2022
A new Homer and Virgil Box Set
I received another booktopia delivery yesterday. My son had given me a gift card for Father's Day, and this is what I bought with it: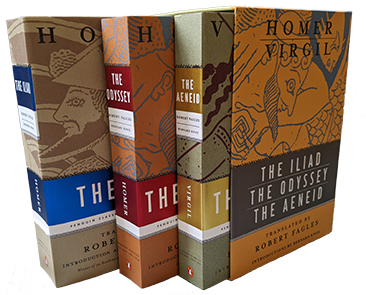 I have read Homer before, but I have never read Virgil, so that was a part of the motivation for buying this box set. I have a small Penguin edition of The Aeneid I bought years ago, but the translation is a prose translation from the 1950s which I simply didn't like. Homer and Virgil are boxed together here because they are translations by Robert Fagles. Fagles's translation of Homer has been my favourite since I bought the edition pictured below of The Iliad and The Odyssey years ago from the Folio Society:
The edition is quarter leather bound with illustrations. Unboxed the books look like this:
And this is a sample from The Odyssey which shows what the pages and illustrations look like: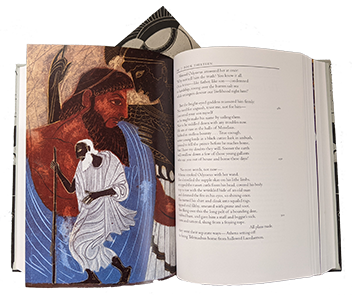 I decided to purchase the Deluxe Penguin Box set of Homer and Virgil because 1) I wanted The Aeneid in a better translation and 2) because Toriaz had been talking about reading Homer and Virgil in the near future, and thought we could read them at the same pace so we could discuss the books. I figured that having the same edition as her – she bought hers from a Sydney bookstore a few months ago – would help us reference our discussion more easily. In addition, I tend to like to annotate books as I read them now, and I didn't want to write in my nice Folio editions.
Of course, all this led to a further idea. I have never read James Joyce's Ulysses, but I know that The Odyssey is an important structural device for the novel. So, our discussion moved on to the possibility of reading Ulysses in tandem sometime in the future, after Homer and Virgil.
I'm quite eager to do it, but I was also aware – we both acknowledged this – that we have a crazy number of reading projects that each of us wish to tackle. At some point in every reader's life, I am sure, is a moment of realisation that there are more interesting books to read than there will ever be time for!
- bikerbuddy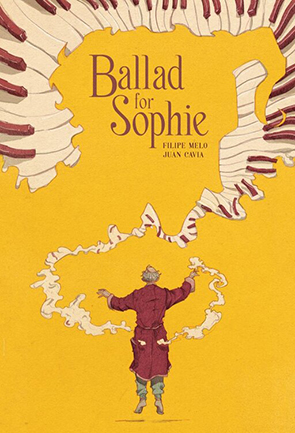 16 September 2022
A new reviewer!
To my surprise we have received statements of interest in reviewing for the Reading Project from more than one person this month. Today I will be publishing the first review of Bojan the Librarian, who runs another Neocities website, Bojan the Librarian, which covers topics as diverse as books, gardening, horror films, and includes a personal blog.
Bojan's first review is on the graphic novel Ballad for Sophie by writer and musican Felipe Melo, and illustrator Juan Cavia. You should check that out as well as Bojan's website.
I'm not sure whether Bojan will review in the future, but this contribution is most welcomed by the Reading Project! Thank you!
- bikerbuddy
20 September 2022
Michael Duffy releases sequel to The Problem with Murder !
Last week I received an email from local author, Michael Duffy, offering me a copy of his latest book, The Strange Death of Paul Ruel, which is a sequel to his first novel we reviewed on this website earlier this year, featuring detective Paul Ruel and journalist Bella Greaves, The Problem with Murder.
Michael first got in touch with us when he read a blog post here about his first Bella Greaves book. We were curious because he had chosen to make the book available only in Blue Mountains bookshops mentioned in the novel. Michael's previous novel captured the character of the Blue Mountains beautifully, which Toriaz and I attempted to illustrate with a video we shot with more enthusiasm than forethought. Nevertheless, Michael appreciated our efforts and agreed to an interview, which is now to be found at the end of our review of his book.
For those interested, there is another interview with Michael featured on a local Blue Mountains website called Orphan Rock (named after a rock feature in the Blue Mountains). To read that interview, click here.
The Strange Death of Paul Ruel arrived with the postman this morning, who put it into my hands since I was in the front yard at the time (instead of reading the last hundred pages of Gravity's Rainbow, which I have been on for weeks. For those familiar with that book, you will understand it is a necessarily slow read, and it may be a few days yet before it's complete. And honestly, I'm not sure what I will do with it that will justify my treatment of it, since there is already so much on the internet about it).
This digression is by way of saying that I probably won't get around to starting Michael's new book until sometime next week – I'm writing this because I suspect Michael sometimes reads this blog – when I hope to be able to focus on it properly and re-immerse myself in the world of Bella Greaves's Katoomba. I'm also hoping to sharpen a few more computer skills and do something for the book on our front page. Until then . . .
Like its predecessor, The Strange Death of Paul Ruel is only available in Blue Mountains Bookstores. However, if you can't get to the Blue Mountains and are interested in Michael's work, the book will also be available on Orphan Rock.com. As of today, it is not yet listed for sale, but Michael's first Bella Greaves novel, The Problem with Murder, is. Click here to view the book for sale on Orphan Rock.com
Thank you to Michael Duffy for thinking of us for this book!
- bikerbuddy
27 September 2022
The Golden Age of Crime Fiction project
It's been a busy month for me, even though I've only reviewed one book so far this month. Gravity's Rainbow took up more time than usual, and that was coupled with an unusually busy period at home.
But I've long promised Toriaz that I would design a Special Reading Project page and a look for her ongoing reviews of books from the Golden Age of crime. It was her intention for it to be a Special Reading Project from the start, but I've just been publishing each review with the look of all our other reviews. When I received her review for Malice Aforethought the other day, I decided to make that the review for which I would design a new look. Once that was done, I went back and converted her previous Golden Age reviews to the new look, too.
The next step was to design a page for the project, itself. Having seen the new review style for the Golden Age, Toriaz sent me some text she'd written for a project page. I spent yesterday afternoon getting that page together. It gave me an opportunity to learn how to make a table of information sortable and searchable, because I saw that someone may want to search it by author, title, or look at the list of books in the order they were published (The search function on our Reviews page which lists all our reviews searches a list, not a table). On my screen, the page looks like this: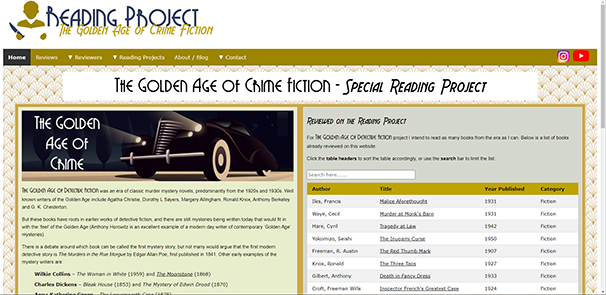 As I was writing this blog, Toriaz sent me a text message with a photo. She had reviewed Martin Edwards's The Golden Age of Murder earlier this year as an ebook. It's a non-fiction account of the Golden Age writers. Having committed herself to this project she decided she wanted a physical copy of that book, and her text was to show me the book had just arrived this morning.
The Golden Age of Crime Fiction project can be accessed via our menu at the top of each page under 'Reading Projects', or you can just click on the above screen shot, also, to get there.
- bikerbuddy