Blog Archive - August 2021
2 August 2021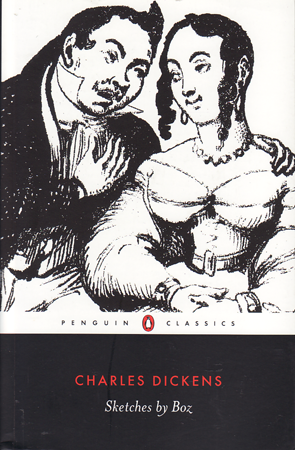 My New Dickens Project
I finished reading Charles Dickens's The Pickwick Papers this afternoon, a day after I received delivery of another Dickens work, Sketches by Boz. 'Boz' was a nickname used by Dickens at the beginning of his career when he wrote short stories and observations of London life for the Morning Chronicle. The 'sketches' were originally published in book form in 1836. Apparently, Dickens drew upon his sketches for his novels. For instance, the first essay in my volume concerns a description of the local parish and the role of the Beadle, obviously of importance for Dickens's second published novel, Oliver Twist. I was thinking that I probably should have started with the sketches, but most of the books came together last month, as I wrote in a blog post then. I now have three remaining to be delivered: Martin Chuzzlewit, Barnaby Rudge and Dombey and Son.
So, I now have a review to write – The Pickwick Papers – and I haven't made any real progress with designing the special Dickens pages before I write it (since I'm so hopelessly slow and inept at designing with HTML and CSS). At the moment, I feel like I've started too many things!
- bikerbuddy
10 August 2021
First Review for the Dickens Project Complete
I had the last of Dickens' novels on backorder delivered a couple of days ago. Also, I finally got my first Dickens review up this morning for The Pickwick Papers. It's taken me longer than usual to get out because once I wrote the review I then had to design a new page for it. I wanted a page designed specifically for Dickens, since I plan to read all of Dickens as part of a Special Reading Project for this site. So far, I still have a few issues to fix with the design, but I just wanted to get it up this morning. I still need to design a main page for the project, as well, but with only one book reviewed, so far, that can wait.
Apart from the look, I experimented with a couple of new features for this review, which you can find by checking the review out here.
I'm also in the middle of redesigning the archive pages for these blog posts. I've added large navigation arrows to help you move back and forth between the months. It's not a feature many people (if any) will use, but I like to improve features when I think of them, and I'm finding that when I look at the blog archives, they are kind of like a diary.
- bikerbuddy
13 August 2021
Site Maintenance
Over the last few days I've been amusing myself during Covid lockdown by fixing up some of this website. I spent some time on the index page, mainly cleaning up the CSS and other problems that aren't that noticeable when you view the page. There are still other issues on that page. I'll get to them eventually.
The other issue I've been thinking about is how I present the archived blogs from this page. The About/Blog page has links to each of the months since the blog was started, but once in a blog archive for a particular month, there was no way to navigate from there. Given that some blog topics run from one month into another, I decided to create arrows to allow navigation back and forth between months. That's now complete. I then realised that while it is logical to have the most recent posts at the top of a current log on the About/Blog page, it doesn't make sense to have them backwards in the archive. So I've started reversing the order of blog archive pages to return the earliest posts to the head of the page. I've done one so far and I'm pleased with the result. I'll start working through the rest of the pages when I have time.
- bikerbuddy
15 August 2021
Upgrade of Blog Archive Complete
I finally finished reordering old entries in the blog archive this morning, so that if in some distant time a lone reader might happen upon it, they can read the entries in order from the top of the page down, rather in reverse order, which is more appropriate. While the blog may be little read by others, I realised as I edited the archive, that it had become a kind of journal for this website. We've only maintained the website since June 2018, but already there are small details I had forgotten that are recorded in the blog.
We didn't have an About Page for at least a year after starting this website. It wasn't until another Neocities site mentioned us and wondered about us, that I decided it would be good to do. The idea of the blog happened after that. Anyway, the Blog Archive can be entered by clicking on the monthly links to the right (unless you are reading this from the Blog Archive in the future, in which case, they're not there!)
- bikerbuddy
22 August 2021
A Perfect Day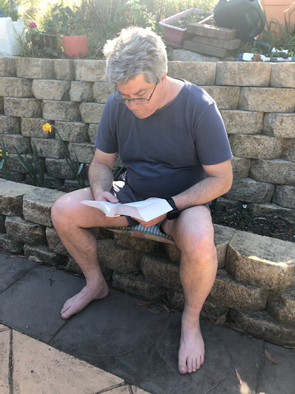 Reading Sketches by Boz on a warm winter's day
- bikerbuddy