Blog Archive - April 2020
1 April 2020
I had a query from Amy in Portland, Oregon, the other day about an old book I loved when I was a kid: The Black Hand Gang by H.J.Press. I read the book when I was in primary school. It was a favourite among all my friends. The Black Hand Gang are Frank, Angela, Ralph and Keith. They solve crimes. My copy combines four stories, The Mysterious House, The Treasure at Breezy Lake, The Smuggler's Tunnel and A Theft at the Zoo. Each story is divided into about a dozen chapters, each a page long with a facing illustration. Each illustration is a detailed imagining of the world of The Black Hand Gang, with clues to solve the mystery, like this: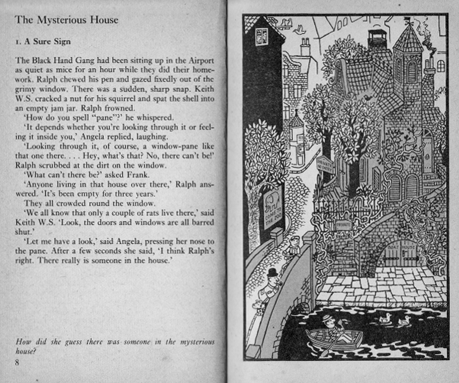 The first chapter of The Mysterious House
Apparently, the stories were also sold separately. Amy had found two of the stories, but she was looking for the final two for her son.
A few years ago, I realised I had somehow lost my copy of this much beloved book sometime over the decades, so I set about trying to find a copy. The book is out of print, but I did manage to secure a second-hand copy for a fairly hefty price. As a result of my search, I also found that a fan had preserved the book in the form of a game (you read the book and respond to the question). It's listed as a Freeware. I've downloaded it myself and played the game without any issues. Those interested might want to give it a go!
You can download the game from Adventure Game Studio.
-bikerbuddy
2 April 2020
I've recently bought a lot of books: more than I normally have been purchasing since we started the Reading Project and far more than I can keep up with. This led to the purchase of new book shelves, the putting together of bookshelves and a continual rearrangement of the books in said shelves. This hasn't been helped by the Coronavirus, since my eldest daughter realised that one of the shelves was a good height for her to use as a bar to practise her ballet while her ballet school is closed. The books had to come out and be moved elsewhere.
With all this going on I decided to make a TO BE READ list of some of my books as a sign of my intentions. These are the books I hope to get around to reading in the next few months or years. There will probably be additions. 🙂
I asked bikerbuddy to redesign my Reviewer page to include my list. My revamped Reviewer page can be viewed here or through the menu at the top of pages in this website.
-Toriaz
3 April 2020
International Booker Prize Shortlist
The shortlist for the International Booker Prize has been announced, with just six books of the original 124 books making it. The list includes novels originally written in Spanish, German, Dutch, Farsi and Japanese. The winner of the International Booker Prize will be announced on 19 May. I haven't read any of these books, so I have no predictions to make. However, as part of our ongoing Booker Project, I will try to review the winner as soon as I can.
The Enlightenment of The Greengage Tree by Shokoofeh Azar (Farsi – Iran), with an anonymous translator
The Adventures of China Iron by Gabriela Cabezón Cámara (Spanish – Argentina), translated by Iona Macintyre and Fiona Mackintosh
Tyll by Daniel Kehlmann (German – Germany), translated by Ross Benjamin
Hurricane Season by Fernanda Melchor (Spanish – Mexico), translated by Sophie Hughes
The Memory Police by Yoko Ogawa (Japanese – Japan), translated by Stephen Snyder
The Discomfort of Evening by Marieke Lucas Rijneveld (Dutch – Netherlands), translated by Michele Hutchison
-bikerbuddy
6 April 2020
One positive about the coronavirus lockdowns around the world has been all the material posted online by various artists, to help everyone stay entertained and to feel connected. There have been impromptu concerts and dance offs, and musicians performing from their homes (such as Lin-Manuel Miranda performing songs from Hamilton), as well as many theatres and opera houses streaming recorded performances.
And books haven't been left out. I've just enjoyed listening to Dolly Parton readingThe Little Engine That Could on her YouTube channel 'Goodnight With Dolly. Dolly Parton started a charity called Imagination Library back in 1996 which supports literacy and has given over 130 million free books to children over the years. Also, Neil Gaiman has given LeVar Burton blanket permission to read any of his (Neil's) books out during this period. Click here for the first one, the short story 'Chivalry'.
My favourite has been my daily dose of Patrick Stewart reading Shakespeare's sonnets. Some of these are available on YouTube. Click here to see Sonnet 1. The full set can be found on either his twitter or Facebook accounts. Just search for him by name.
Of course, Patrick Stewart could probably read the back of a Cornflakes packet and make it sound interesting [ed. Did you just dis Shakespeare?] His voice as he reads the sonnets is soothing and a comfort in this unsettled time. I could listen to these all day.
-Toriaz
10 April 2020
Women's Book Month!
In our April 2019 blog we raised the subject of female authors after Vicki Laveau-Harvie won the Stella Prize for her novel, The Erratics.
Since then our website still favours male writers by a margin of 2:1, not because we choose to do this but we read what we want. But we acknowledged back in April 2019 that more complex social factors affect our choices, of course.
Yesterday, we noticed that 11 of the last 14 books we've reviewed have been by female writers. Our last 6 books have all been by female writers. This morning I've put up another review on a book by an Australian female writer. We were discussing that we might dedicate this month to female writers, since we already have a start (although WaywardWoman has a book by Elton John going at the moment). We'll see how we go. For anyone else, you might wish to spend some of your time in social isolation checking out female authors of your own choice. Enjoy!
-bikerbuddy
13 April 2020
Women's Book Month!
In our last blog post I declared April Women's Book Month for the Reading Project. Yesterday, with Toriaz's new review for Alexandra Heminsley's Running Like a Girl, the book carousel showing our most recent reviews now features only female writers in its starting position (If you have a wider screen you will still see books by male authors if you are displaying 11 instead of 8 books across). This is the first time we have ever done this.
We're making a special effort to read and review female authors this month. In my experience some people are against this – arguing that it is tokenism or reverse discrimination – and I understand their arguments. But having seen that we review male and female authors on a ratio of 2:1 (with two women providing a bulk of our reviews out of our three main reviewers), we thought it was interesting to once again draw attention to this. There are obviously social and historical circumstances that cause women's writing to be marginalised, still. We'll go back to randomly choosing whatever we feel like reading next month, which will no doubt include a variety of books. I have a few books by blokes lined up for reading, too.
-bikerbuddy
15 April 2020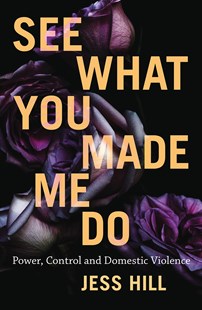 Women's Book Month!
Jess Hill has won this year's Stella Prize for her book See What You Made Me Do. The Stella Prize is awarded for writing by Australian women. It was begun to counter a perceived bias against women in Australian literary awards. This is the eighth year for the prize.
Hill's book documents the problem of domestic violence against women in Australia. Her research has shown that on average one woman a week is killed by a man she has been intimate with. The book examines the causes of abuse and ways in which it may be reduced. Unfortunately, Hill's award could only be celebrated via zoom parties online because of the Coronavirus lockdown. Other shortlisted authors included:
Diving in Glass by Caro Llewellyn
There was Still Love by Favel Parrett
Here Until August by Josephine Rowe
The Yield by Tara June Winch
The Weekend by Charlotte Wood
-bikerbuddy
20 April 2020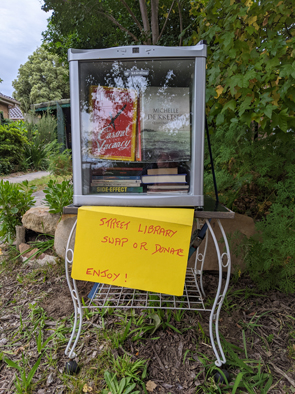 Last month bikerbuddy wrote a series of blog posts about Street Libraries. We found a few by chance around Springwood.
That gave me the idea that I might start one in my own street. I've done a bit of research over the weekend, trying to work out whether it would be cheaper to order the pre-cut kit from the Street Library website, or use their plans and buy the materials myself (I think ordering the kit would be better). I had intended to theme the library after our website.
This morning I went for an early morning walk in our street and discovered only a few houses up, across the road, a new street library, pictured to the right. It's made from an old bar fridge. I quickly checked it out and took the photo. Then I wondered whether it was worth going to the effort and expense of making my own. But I think I will. Mine will be a very different look and feel, and I'll give it links back to this website. I'll put more posts up here about it if I make any progress.
-Toriaz
22 April 2020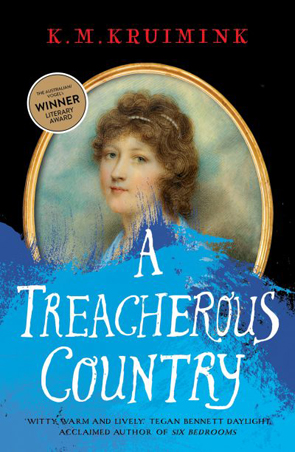 Women's Book Month!
The Australian Vogel Award, 2020
The Vogel Award committee have unwittingly conformed to our theme for this month – Women's Book Month. The Vogel Award is a literary award for Australian authors under the age of 35 who submit an unpublished manuscript. The award has helped to start the careers of writers like Tim Winton and Kate Grenville. The winner gets AUD$20,000 and their manuscript is published by Allen & Unwin. Last year, for the first time since 2013 (and 1985 before that), there was no manuscript deemed worthy of the award.
This year K.M.Kruimink has won for her novel A Treacherous Country, beating an all-female shortlist: Emily Brugman for The Islands, Belinda Lopez for Tete and Maree Spratt for The Followers.
-bikerbuddy