Blog Archive - March 2020
1 March 2020
One might argue that a study can be found to support anything you want to believe, but I disagree with that sentiment, since what follows concerns a study that I wish to believe.
First, I've started many book series over my life but only completely read a few. This morning I will be reviewing my last book in Terry Pratchett's Discworld series, which I highly recommend. Another series I read right through and I highly recommend is A Series of Unfortunate Events by Lemony Snicket (aka Daniel Handler). Many would be familiar with the television show or the less-than-satisfactory movie version starring Jim Carrey. One of my favourite aspects of the book series is that the reading of books is deemed to be a good thing for the world and makes us better people. Rather than wade through my copies this morning to find an example, I did a quick internet search. The following quotes are typical of the sentiment in the books:
If you feel . . . that well-read people are less likely to be evil, and a world full of people sitting quietly with good books in their hands is preferable to world filled with schisms and sirens and other noisy and troublesome things, then every time you enter a library you might say to yourself, 'The world is quiet here,' as a sort of pledge proclaiming reading to be the greater good.
Wicked people never have time for reading. It's one of the reasons for their wickedness.
Of course, this is partly tongue-in-cheek. But this week we have been offered scientific evidence that it is true! This is the part where we go back to the study: Click here to read about it. This study finds a correlation between kinder, more empathetic people and reading. Whether reading books has this effect on a reader, or whether this kind of person is drawn to reading, the study cannot say. But there you have it. I'm officially a nice guy!
After I finish my review this morning, I will be producing my own badge and T-shirt: Bow before me, for I am a nice guy. Science says so. And no one will dare argue!
- bikerbuddy
2 March 2020
It's that time of year again. The International Booker Prize Long List has been announced with 13 titles competing for the prize.
Red Dog by Willem Anker, translated by Michiel Heyns from Afrikaans (Pushkin Press)
The Enlightenment of the Greengage Tree by Shokoofeh Azar, translated by Anonymous from Farsi (Europa Editions)
The Adventures of China Iron by Gabriela Cabezón Cámara, translated by Iona Macintyre and Fiona Mackintosh from Spanish (Charco Press)
The Other Name: Septology I-II by Jon Fosse, translated by Damion Searls from Norwegian (Fitzcarraldo Editions)
The Eighth Life by Nino Haratischvili, translated by Charlotte Collins and Ruth Martin from German (Scribe UK)
Serotonin by Michel Houellebecq, translated by Shaun Whiteside from French (William Heinemann)
Tyll by Daniel Kehlmann, translated by Ross Benjamin from German (Quercus)
Hurricane Season by Fernanda Melchor, translated by Sophie Hughes from Spanish (Fitzcarraldo Editions)
The Memory Police by Yōko Ogowa, translated by Stephen Snyder from Japanese (Harvill Secker)
Faces on the Tip of My Tongue by Emmanuelle Pagano, translated by Sophie Lewis and Jennifer Higgins from French (Peirene Press)
Little Eyes by Samanta Schweblin, translated by Megan McDowell from Spanish (Oneworld)
The Discomfort of Evening by Marieke Lucas Rijneveld, translated by Michele Hutchison from Dutch (Faber & Faber)
Mac and His Problem by Enrique Vila-Matas, translated by Margaret Jull Costa and Sophie Hughes from Spanish (Harvill Secker)
I haven't read any of them, nor am I likely to have the chance before the prize is announced. I've already committed to Hilary Mantel's The Mirror and the Light this month, which is almost a thousand pages, along with other books. However, as part of the Booker Prize Project, one of us will get around to reading the winner at some time.
- bikerbuddy
5 March 2020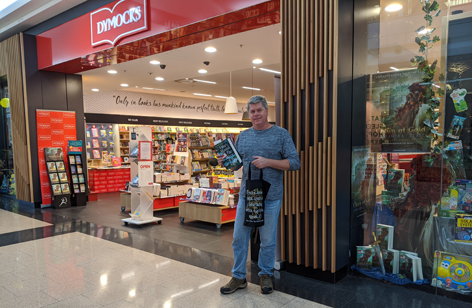 Me outside Dymocks with my newly purchased The Mirror and the Light, and accompanying tote bag
The wait is finally over!
I reread Hilary Mantel's Bring Up the Bodies last month in anticipation of this month's release of the final volume in the Wolf Hall Trilogy, The Mirror and the Light. I went to our closest Dymocks store in Penrith this morning to pick up my copy, which also came with a canvas bag as a promotion. I've previously written in blog posts how I like getting canvas bags with books.
I have a review to write tomorrow for Pat Barker's The Ghost Road, which I finished reading this morning, and then I don't expect to be writing any more reviews until I finish The Mirror and the Light, which is just shy of 900 pages. I'll be starting it this weekend.
- bikerbuddy
14 March 2020
Despite a world pandemic, today is a good day for us. For the first time we are publishing a review by someone outside Australia. Hasty, who runs the website Hastiest Handiwork here on Neocities, has written a review for Edward Abbey's The Monkey Wrench Gang, a novel about environmental activism in the 1970s. Hasty is an avid reader and has indicated he might write more reviews for the Reading Project in the future. We hope he will. (Reviewing can be infectious - *groan*). Click here to read Hasty's first review for this website.
- bikerbuddy
17 March 2020
PART 1
With the Coronavirus being all the rage right now, I was reminded of The Hot Zone by Richard Preston. It's when I first read about Ebola, back in the 90s. Ebola's pretty scary. I went looking for it the other day and realised it was another book I no longer have, no doubt leant to someone a long time ago and forgotten about. I was mildly irritated, telling myself that I have lost hundred of books like this over the years, although the real number is probably dozens. I also haven't been able to find my copy of The Call of the Wild or The Old Man and the Sea, recently. Other books that I knew were missing were Christopher Hitchins' book on Mother Theresa (The Missionary Position) which I lent to a former book group member, a copy of Catch-22 I had had signed by a game show host who sat next to me on my way to New Zealand (true story), and my copy of The World According to Garp. This last was most irritating, since when I asked if I could have the book back, I was told my book had been given to someone else to read, and when I asked that person, they denied having received the book!
Anyway, I know that there will be different attitudes to this. For me, I return to books over and over, so I like to keep them. I'm one of those people who make notes – yeah, that type. Others prefer not to keep their books and are happy for them to have another life with others - to share them around - which I think is a great idea, too. More on this tomorrow.
- bikerbuddy
18 March 2020
PART 2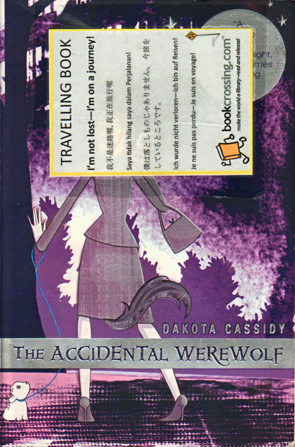 As I said yesterday, I like to keep my books – I like the idea of a personal library – but I also understand the philosophy of sharing books, since books connect people through shared ideas. Instead of sharing books my version of that has been this website. But there are other websites which are dedicated to the idea of physically sharing books. I have two examples in mind.
I currently have a copy of The Accidental Werewolf by Dakota Cassidy sitting on my shelf. It was picked up from a bench in town. I don't intend to read it, but I will move it on in accordance with the philosophy of the website. I took it because I was intrigued by the plate attached to its cover telling me that this is a 'Travelling Book'. It's an initiative of bookcrossing.com. The website has an international profile.
The idea is that you read a book and then leave it somewhere, hopefully, a random stranger will pick up the book and in turn pass it on. I'm sure a lot go missing. If they end up permanently on someone's shelf then I guess that's something people involved understand is a possibility and are okay with.
On a more local level, is the idea of Street Libraries which I will write about tomorrow.
- bikerbuddy
P.S.: Just after I posted this blog I took another look at The Accidental Werewolf. Remember, I said I hadn't read it. As I flicked through it I found this note: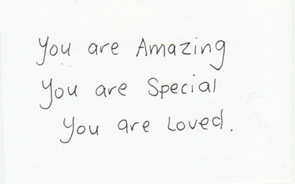 Now, isn't that nice? I said in my blog post at the beginning of this month that people who read books are just the nicest 😉. Obviously, it's true!
- bikerbuddy
19 March 2020
PART 3
After I wrote my blog post yesterday I wandered around to the street behind us with the bookcrossing.com copy of The Accidental Werewolf to set it free again. Before I did, I visited the website and recorded my possession of the book with a note about what I was doing. I was placing the book in a local Street Library. Here's a picture of the book at the Street Library just before I put it in:
That Street Library is unregistered at the moment. The Street Library concept is based upon the Little Library Movement in America. In Australia, Street Libraries can be registered with Streetlibraries.org, a website dedicated to promoting the Little Libraries idea here in Australia. A Street Library is a swappable library placed outside someone's home. I've come across two in Springwood but I know by the website there are more in the mountains. The other of these Springwood libraries is registered on the website. It's beautifully painted, themed to a set of Australian children's books by May Gibbs. Here are pictures of the sides and front: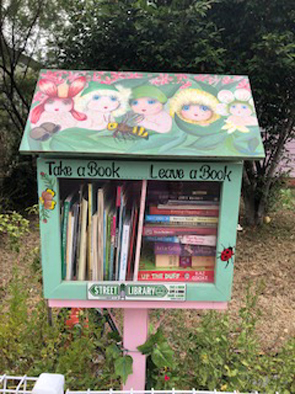 You can also see the webpage where this Street Library is registered by clicking here. Also, this map shows the current distribution of registered Street Libraries across Australia: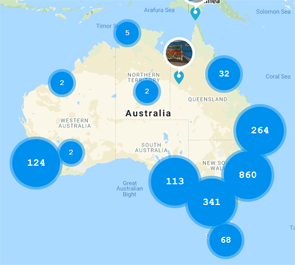 - bikerbuddy
27 March 2020
Like many in the world, we're in isolation at home here in Australia due to government recommendations concerning Coronavirus. It's been good to have the family at home. I've also been able to finish Hilary Mantel's The Mirror and the Light this morning. And I even persuaded Lucy, our hyperactive dog, to enjoy a few minutes with a book!
Me and Lucy reading The Digging-est Dog
- bikerbuddy
28 March 2020
I finished Hilary Mantel's The Mirror and the Light yesterday, the third book in her Wolf Hall Trilogy. The first two books, Wolf Hall and Bring Up the Bodies both won the Booker Prize. I've managed to call the winner for the last three years (except the double win last year – I called one of the two books). So, I'm going to stick my neck out pretty early this year and call it, long before the Longlist has even been published. My prediction for the Booker this year is The Mirror and the Light. You can read my review here.
29 March 2020
The family liked my picture reading to Lucy, our dog, so much, that I was pressed into another this afternoon. I was trying to think where some shots might be displayed, but this blog is really the only place on the website where they fit. So, here's another taken in our back room while the Coronavirus lurks somewhere out there.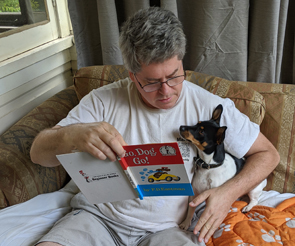 Me and Lucy reading Go, Dog Go!
- bikerbuddy