2 July 2018
I've been reading Joyce Carol Oates's A Book of American Martyrs over the weekend. I bought it last month along with a stack of other books and honestly had no idea what it was about. Something about the title appealed to me and the mention of Trump's name on the cover, and it went in the basket without further thought, just before I went to the checkout. I had planned on reading something smaller after just finishing Wolf Hall, but as I browsed through books the beginning of this one just grabbed me. I'm about a quarter of the way through, now. The book's plot is centred around the issue of abortion in America. The scenario is quite worrying but very topical. Just this morning I have been reading in the paper about the possible influence that Donald Trump's chosen judge for the Supreme court could have on the rights of minority groups in America and women's health issues. It will be impossible not to talk about this a bit when I come to write my review of the novel.
4 July 2018
Four more Man Booker Prize Winners arrived by post this morning, leaving only three to wait on. The new arrivals were The Elected Member by Bernice Rubens, Holiday by Stanley Middleton, Saville by David Storey and Hotel du Lac by Anita Brookner.
6 July 2018
It's been a tough week to get out reviews. WaywardWoman has been busy on other projects, I've been wading through another long novel and Toriaz was involved in an accident that wrote her car off – hit by an unlicensed driver, but she wasn't hurt – so she's had other things to deal with. Hoping to have another two reviews out by the end of this weekend.
16 July 2018
Finally got around to reading more of People's History of the Vampire Uprising this afternoon. after starting it last week I got stalled by other things that needed doing and a weekend away. About a hundred pages in now and enjoying it so far.
23 July 2018
We joined a Neocities Discord group yesterday. I had never heard of Discord before until I followed an unusual thread in the members' pages. I decided to investigate and then saw the options for joining. In the spirit of learning more, which was what this website was originally about, and making a few connections, I joined. Thanks to the Hyperlink group for accepting us, even though we're much older and don't really speak the language. It's an interesting insight, even if we won't have much to contribute.
25 July 2018
A little late in acknowledging this, but the long list for this year's Man Booker Prize was announced two days ago. For the first time it includes a graphic novel, Nick Drnaso's Sabrina. Given the number of Bookers we're already committed to reading over a long period, we won't review all the list, but we might review some. I was wondering whether Sabrina might win it, since the committee chose George Saunders's experimental novel Lincoln in the Bardo last year.
27 July 2018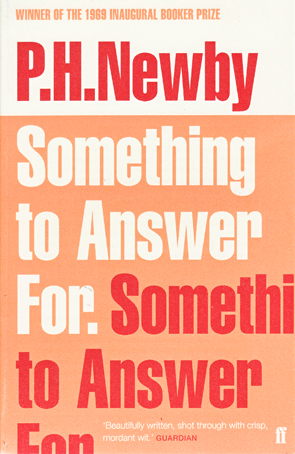 We finally received the remaining Booker Prize novel we have been awaiting this afternoon, P.H. Newby's Something To Answer For. While it may have been the last we obtained, it was actually the inugural winner in 1969. All the way down here in Australia, it proved to be a little difficult for the bookshop in Sydney to acquire. I'll try to commit more to our Man Booker reading project now that we have the set.